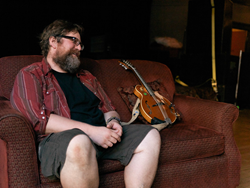 Bend, OR (PRWEB) February 25, 2015
Trampled by Turtles is an American progressive bluegrass / folk rock band comprised of five members from Duluth, MN including Weber artist Erik Berry. In 2014, they released their new album Wild Animals, which hit #29 on the Billboard Top 200.
Erik sat down with Weber Mandolins for an exclusive video interview in Portland, Oregon before a recent sold out show at the Crystal Ballroom. Watch the video here.
This year they are gearing up for big nation-wide tour that includes many top festivals, and a return to Red Rocks Amphitheatre in Colorado on August 29th. Can't see them live? Here is a taste from their "Live at First Avenue" live concert album. http://www.youtube.com/watch?v=YTovORb24UQ&feature=youtu.be
For full tour information click here.
# # #
WEBER FINE ACOUSTIC INSTRUMENTS
Since 1997, Weber's sopranolins, mandolins, mandolas, octaves, mandocellos, arch-top and resonator guitars have earned the reputation of being among the finest custom acoustic instruments being built today. At Weber, we build instruments for all levels of players, from the weekend mandolin warrior to the pro on the road. Learn more at http://www.webermandolins.com