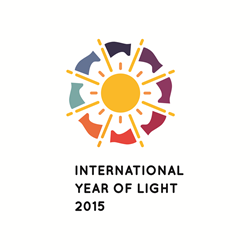 LIA is proud to be a sponsor of this groundbreaking initiative
Orlando, FL (PRWEB) February 25, 2015
The United Nations has proclaimed 2015 as the International Year of Light and Light Based Technologies! For the first time on this scale, scientists, engineers, corporations and universities around the world are coming together to raise global awareness about how light-based technologies promote sustainable development and provide solutions to global challenges in energy, education, agriculture and health.
As an organization directly related to the cause of awareness of the importance of light, especially in laser technology, LIA is proud to be a sponsor of this groundbreaking initiative and stand alongside like-minded partners across the globe. All of LIA's 2015 conferences support the cause.
March 4-5 in Orlando FL, LIA's seventh annual LAM workshop will bring experts in power generation, aerospace, agriculture and other manufacturing fields along with newcomers to the world of additive manufacturing. There will be discussion on cladding, revolutionary applications of AM in medicine and dentistry, the aviation and automotive industries, and even consumer products.
March 23-26 in Albuquerque NM, LIA's ILSC conference is a tremendous source of information covering all aspects of laser safety and hazard control. Scientific sessions will address developments in regulatory, mandatory and voluntary safety standards for laser products and for laser use. The Practical Applications Seminars (PAS) complement the Scientific Sessions by exploring everyday scenarios that the LSO and MLSO may encounter.
October 18-22 in Atlanta GA, the International Congress on Applications of Lasers & Electro-Optics (ICALEO®) is LIA's conference where researchers and end-users meet to review the state-of-the art in laser materials processing and predict where the future will lead. From its inception, ICALEO has been devoted to the field of laser materials processing and is viewed as the premier source of technical information in the field.
For more information on LAM, ILSC and ICALEO, please visit http://www.lia.org/conferences
For more information on the International Year of Light, please visit http://www.light2015.org
About LIA
The Laser Institute of America (LIA) is the professional society for laser applications and safety serving the industrial, educational, medical, research and government communities throughout the world since 1968. http://www.lia.org, 13501 Ingenuity Drive, Ste 128, Orlando, FL 32826, +1.407.380.1553.