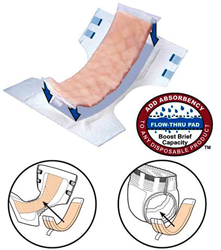 "I found your TopLiner Super Booster Pads to be exactly what I needed. Comfortable to wear, discreet and the right amount of protection. I would certainly recommend your products to my friends." - M.R. age 65, Ohio
Mesa, Arizona (PRWEB) February 26, 2015
Add Absorbency. Stop Leakage. Reduce Cost. Comfort Plus, a leading online incontinence product retailer based in Mesa, Arizona, is proud to announce another premium performance product to it's online store.
TopLiner Boosters line the inside of any disposable brief or undergarment. The flow-through design allows the pad to fill to capacity and then pass additional fluid to a disposable undergarment boosting absorbency, maintaining skin integrity and controlling odor.
Click here to see current promotion details
-Higher absorbency reduces need for nighttime changes and allows for uninterrupted sleep.
-Saves money by extending use of primary undergarment.
Place pad on target area to control leakage and eliminate wetness to linen and clothing.
Customers are already impressed with this products superior performance:
"I found your TopLiner Super Booster Pads to be exactly what I needed. Comfortable to wear, discreet and the right amount of protection. I would certainly recommend your products to my friends." M.R. age 65, Ohio
Item #2060 TopLiner Super Booster Pad
Dimensions: 15" x 4.25"
Capacity: 14.2 oz / 420 ml
Packaging: 8 bag in a case. 25 pads in a bag.