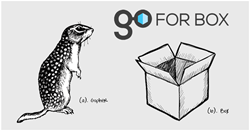 We have taken an existing service and retooled it for modern life...
(PRWEB UK) 25 February 2015
Online bookmarking has changed forever with the arrival of Goforbox.com. In simple terms it's a 'box' where you can 'go for' storing and enjoying all your favourite content from across the web. With its totally customisable categorisation system, Goforbox unlocks new features and possibilities for bookmarking.
Of course most browsers come with the basic ability to place a bookmark or add a website to your favourites, but these tools simply dump all that information in one place. With estimates for the number of web pages now hovering somewhere above 1.5 billion it's become imperative to store content somewhere where it can be quickly accessed when needed, and where there's storage there needs to be some kind of order.
Basic bookmarks end up stacked in chronological order, meaning that to find what you're looking for you have to remember exactly when you first discovered it. Not only is that inconvenient, but it means that once you've forgotten about bookmarked content you may never see it again.
Goforbox is bookmarking re-imagined for the social network generation, allowing far greater control and categorisation of bookmarks as well as the sorely needed ability to share bookmark collections between multiple users.
A spokesperson for Goforbox says: "We have taken an existing service and retooled it for modern life. Most computer users have separate files for different genres of music, so it's unbelievable that before now there was no easy way to differentiate between different kinds of bookmarked content. Favourite YouTube videos would be sandwiched between pages you needed for work – it was a real mess. With Goforbox there can be as many categories as you want, with no restrictions on content type. But what really makes Goforbox stand apart from other bookmarking sites is its automated content pulling system. This assesses websites based on their URLs and recognises content that can be viewed from within the Goforbox platform, which is great for multi-media playlists which contain both video and music."
It's this multi-media bookmarking that makes Goforbox so innovative. Modern workers and scholars know that these days a project can involve many different types of content, from written reports to instructional videos. With Goforbox, individuals and groups can create playlists which include every type of content, allowing them to collect all the information relevant to a project without needing to seek out different types of storage.
Because Goforbox is a private bookmarking service, groups can share an account while safe in the knowledge that they're the only ones who have access. This makes Goforbox the ideal tool for businesses and even schools, where a team needs shared access to a customisable bookmarking service and privacy is vital. Simply share access to a Goforbox account and you have a private, shared workspace that can be accessed from anywhere in the world – but only by the people you choose to include.
With so many new features specifically geared to creative, stress-free use, Goforbox is set to become the online private bookmarking tool of choice.
Goforbox Limited (UK) was founded in 2014 by the company's directors Henry Dudding and Thomas Hurt. For more information about Goforbox please visit our website, or contact us by email at hello(at)goforbox(dot)com