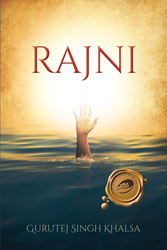 All great souls have had to work to become the people we remember
SINGAPORE (PRWEB) February 26, 2015
When you think of female spiritual leaders, what figures come to mind?
Author Gurutej Singh Khalsa believes the role of women in spiritual thought has been diminished, if not overlooked. So when his spiritual teacher, Yogi Bhajan, the Chief Religious and Administrative Authority for Sikhs in the Western Hemisphere, suggested he write about some of the great women from Sikh history, he went at the project with gusto.
"While Rajni is based on a traditional story from Sikh history, there is very limited information available about Rajni, the protagonist," Khalsa said. "This required considerable research, prayer, and meditation."
Khalsa kept at the project for 17 years, sending it to a group of Sikh scholars in India to verify the historical accuracy. Now complete, the fictional work sends readers on a spiritual journey of tolerance, understanding and perseverance to which all readers, no matter their religious beliefs, will relate.
"All great souls have had to work to become the people we remember them as, questioned themselves and their relationship with the divine, and through grit and perseverance achieved their elevated status," Khalsa said.
A lifelong student of yoga and a certified teacher of Kundalini Yoga, Khalsa has found the joys of living from his daily meditation, even during his previous work as a police officer and founder of Akal Security, Inc., the second largest privately held security company in the United States and the largest provider of protective services to the US federal government.
"Yogi Bhajan taught me a number of kriyas and meditations personally, which I have practiced for decades," Khalsa said.
For more information, visit http://www.rajniofgoldentemple.com/.
Rajni
By Gurutej Singh Khalsa
ISBN: 978-1-4907-4330-1
Available in softcover, hardcover, e-book
Available on Amazon, Barnes & Noble and Trafford
About the author
Gurutej Singh Khalsa is an ordained minister of Sikh dharma and a yogi, warrior, entrepreneur, poet, healer, and teacher. He has been a personal bodyguard and aide to Yogi Bhajan, a founder of an international security firm, and a worldwide yoga and meditation teacher. Khalsa was born in Atlanta and now lives in Singapore with his wife and son.
# # #
For review copies or interview requests, contact:
Jaymie Shook
317.602.7137
jshook(at)bohlsengroup(dot)com