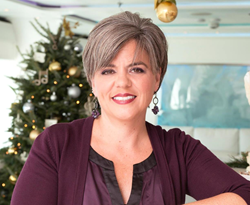 Considering that the majority of financial managers are female, it's clear that women have the capability to be effective leaders in this arena.
(PRWEB) February 25, 2015
Employment statistics reveal that women account for nearly half of the U.S. workforce and more than half of all financial managers (1); yet among America's top 500 companies, only one in 10 of chief financial officers are women. (2, 3) To address this disparity, Novus Medical Detox Center CFO Bryn Wesch shares her advice and encouragement for women in finance who seek advancement to the C-suite.
According to the U.S. Bureau of Labor Statistics, women fill 55.7% of business and financial occupations and 55.3% of financial manager roles; yet only 26.8% of chief executives are women. (1) The proportion of women CFOs at America's leading companies is even smaller; as of 2013, only 11.4% of Fortune 500 companies (2) and 10.8% of Standard & Poor 500 Index companies (3) had a female CFO.
As CFO of Novus, Wesch has contributed to the ongoing growth of the Florida drug detox facility, which provides substance abuse treatment programs in a residential, in-patient setting. Novus entered the Inc. 5000 list of America's fastest-growing private companies at position 4,436 in 2013, and climbed to the 2,936 spot in 2014 with a 123% three-year growth rate. (4) Wesch has also supervised the company's physical expansion, obtaining financing and overseeing construction to nearly triple the facility's beds. She began her career as a collections department manager in 1990 and subsequently advanced through financial management before her first CFO appointment in 1998.
"I have been fortunate to work for employers that recognized my potential, provided increasing levels of responsibility and rewarded my achievements with advancement opportunities," said Wesch. "Considering that the majority of financial managers are female, it's clear that women have the capability to be effective leaders in this arena. Yet the small proportion of female CFOs suggests that many women have faced obstacles in advancing to higher-level roles. I'd like to see more women pursue and attain CFO positions, so I've compiled my recommendations for those seeking promotion to the executive suite."
Here, Wesch shares her top five tips for women in finance who aspire to senior and executive management roles:
Plot your career path wisely. While some people base their career decisions solely on salary, there are many other aspects to consider when planning for the long haul. Is the company well known and respected? How much responsibility will you be given? Is there a clearly defined path to advancement? Do women hold high-level roles within the organization? If a job offers valuable learning experience and significant responsibility but has limited advancement potential, think about whether and how you can leverage that position for future opportunities at other organizations.
Find a mentor who is committed to your success. While a good mentor can be expected to provide career guidance and advice, a great mentor will challenge and champion the mentee. Look for a mentor who agrees to provide constructive criticism that will contribute to your professional growth. And just as importantly, find someone who is willing to advocate for you. Women in finance can greatly benefit from a respected executive who is willing to speak out on their behalf and support their advancement.
Ask for expanded responsibilities. While being proficient in your assigned job will likely earn you the respect of managers and peers, it may not be enough to earn you a promotion. It's important to show your willingness to step up to the plate and take on tasks that are outside the scope of your job description. Volunteer to assist with high-profile projects, and make an effort to provide meaningful contributions. This can help position you for a promotion within the organization or enhance your resume if you plan to seek opportunities elsewhere.
Build a case for yourself. Chief executives are expected to be firm and confident in their decision-making, which is why women in finance need to exhibit confidence and self-assurance at every stage in their career. Following on the previous tip, don't be shy about asking for greater responsibility or claiming credit for your accomplishments. Identify the qualities that set you apart from your peers and male counterparts, and translate how they would make you a superior CFO.
Move up or move on. Once you have proven yourself and gained the necessary experience, don't wait for a promotion—ask for one. And be prepared to explain why you deserve it. If your company doesn't feel you are ready, find out what they expect of you and mutually agree upon the steps needed to progress to the next level. But if a promotion is not forthcoming, know when it's time to move on. Strive to maintain career momentum and avoid stagnation; this shows prospective employers that you are a woman of action who aims high and knows her worth.
Wesch concluded, "I'm living proof that female CFOs are capable of leading change and driving substantial growth, and I hope that my professional accomplishments and advice will inspire other women in finance to pursue the top job. Companies stand to gain so much when they provide executive leadership opportunities to women; we know that we have more to prove than men, so our employers get to reap the benefits of that determination and dedication. My achievements on behalf of Novus are a reflection of my own commitment to success, and I'm grateful to them for giving me the chance to excel."
For information on Novus Medical Detox Center and its substance abuse treatment programs, visit http://www.novusdetox.com.
About Novus Medical Detox Center:
Novus Medical Detox Center is a Joint Commission Accredited inpatient medical detox facility that offers safe, effective alcohol and drug treatment programs in a home-like residential setting. Located on 3.25 tree-lined acres in New Port Richey, Fla., Novus is also licensed by the Florida Department of Children and Families and is known for minimizing the discomfort of withdrawal from prescription medication, drugs or alcohol by creating a customized detox program for each patient. By incorporating medication, natural supplements and fluid replenishment, Novus tailors the detox process for each patient, putting the dignity and humanity back into drug detoxification. Patients have 24/7 medical supervision, including round-the-clock nursing care and access to a withdrawal specialist, and enjoy comfortable private or shared rooms with a telephone, cable television and high-speed Internet access. Novus' expansion is tied to their contribution to their industry and their local community, ranking number 48 on the Tampa Bay Business Journal's 2014 Fast 50 Awards list of the fastest-growing companies in Tampa Bay, and number 2,936 on the 2014 Inc. 500/5000 list of fastest-growing companies in America. For more information, visit http://www.novusdetox.com.
1. U.S. Bureau of Labor Statistics. Women in the Labor Force: A Databook; December 2014; pages 32 and 34. bls.gov/opub/reports/cps/women-in-the-labor-force-a-databook-2014.pdf
2. Catalyst. Knowledge Center: Women in Financial Services; September 29, 2014; statistic citation: Catalyst unpublished data (2103). catalyst.org/knowledge/women-financial-services
3. Frier, Sarah and Carol Hymowitz. "Women CFOs Reach Record Level in U.S. as Top Job Remains Elusive"; Bloomberg Business; February 6, 2013. bloomberg.com/news/articles/2013-02-06/women-cfos-reach-record-level-in-u-s-as-top-job-remains-elusive
4. Editors of Inc. "The 2014 Inc. 5000: Novus Medical Detox Center"; Inc.; September 2014. inc.com/profile/novus-medical-detox