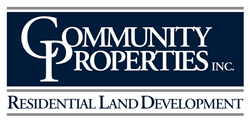 "We are excited to be able to participate in the revitalization that is occurring in downtown Raleigh." -- Jack Morisey, president, Community Properties
Raleigh, NC (PRWEB) February 25, 2015
The Brookview rental community in downtown Raleigh just east of North Person Street is under contract to Community Properties Inc. in a joint venture with Robuck Homes. The 71 existing 450 to 500 square foot rental units that were built in the 1940s will be removed, and in its place a new single-family home neighborhood will be built.
Community Properties is a local residential developer and Robuck Homes is a local residential home builder. Both have been active in developing neighborhoods and building homes throughout Raleigh and the Triangle for over 30 years.
"We are excited to be able to participate in the revitalization that is occurring in downtown Raleigh," says Jack Morisey, Community Properties president. "Our vision is to build single-family homes that will align with the personality and aesthetics of the existing surrounding communities. This part of Raleigh is rich in character and personality – and our goal is to add to that, not distract from it."
Community Properties is currently in the feasibility phase of development, which includes research and discovery to determine the appropriate size and design of the new homes. The property is currently zoned R-10 – allowing for up to 75 new homes on the 7.5 acres. However, Morisey and the new venture will build fewer than 75 homes the zoning allows.
The Brookview property sits between the historic Mordecai and Oakwood neighborhoods and is currently owned by Kip-Dell Homes. "These rental units have aged over time and are reaching the end of their lifecycle," says Kip Young, Kip-Dell Homes owner. "With all of the revitalization happening in the immediate area, it seemed like the perfect time to sell the property and make way for more updated and nicer homes."
"This is a very exciting and important project for us," says Morisey. "As Raleigh natives, it is especially important to us to rebuild a community that will fit in aesthetically with the surrounding historic homes, as well as complement them and endure the test of time. We will evaluate the success of this project based on its economic performance as well as how it looks 30 years from now."
Given the age and history of the current Brookview units, demolition potentially offers an opportunity for non-profits focused on giving old materials new life. Morisey is currently seeking organizations with an interest in harvesting fixtures and materials from the homes prior to demolition. Information about the project and its progress can be obtained by calling 919-926-5549 or info(at)communityproperties(dot)com.
About Community Properties
For nearly four decades, Community Properties has created successful residential communities throughout Raleigh, NC and the greater Triangle area. Led by Jack Morisey and Tommy Fonville, the company is known for honesty and integrity. The success of the organization stems from a reputation for dependability, responsibility, fairness, financially stability and a continual pursuit of excellence.
Community Properties has a long-standing and authentic relationship with municipal officials, landowners, real estate brokers, home builders, lenders and subcontractors throughout the Triangle. For more information about Community Properties, please visit http://www.CommunityProperties.com.