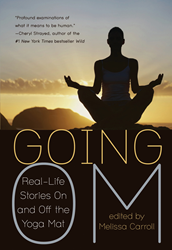 "Perhaps that's the reason I admire the essays in this collection so deeply. Like shavasana, they seem to be one thing—writers on the subject of yoga—but really they're another: profound examinations of what it means to be human." —Cheryl Strayed, Wild
(PRWEB) February 25, 2015
Unlike books on yoga that provide instruction on technique, Going Om: Real-Life Stories On and Off the Yoga Mat is a unique collection of never-before-seen personal narratives from celebrated authors. This anthology values the quality of writing over the authors' flexibility. With candid, witty and compelling experiences of yoga from renowned memoirists, including forewordist Cheryl Strayed, author of #1 New York Times bestseller Wild, Going Om shares a range of observations about this popular practice.
Melissa Carroll has created a collection in Going Om that features a multitude of talented writers and yogis. One in particular named Emily Rapp, a memoirist and former Fullbright scholarship recipient, who shares how yoga helped her battle with anorexia. She provides an excerpt on Ravishly.com, a place to share her story with the world and how yoga has bettered her life in every aspect.
She shares her story on Ravishly.com.
Melissa Carroll is a writer and yoga instructor who believes in the power of being present. Based in Tampa, she guides more than 200 students every week at the largest yoga class in Florida. Melissa leads yoga and creative writing retreats all over the world, and teaches creative writing at the University of Tampa. Melissa is the author of the chapbook The Karma Machine, and her work has appeared in many literary journals and magazines. Discover more at http://www.MelissaCarrollYoga.com.