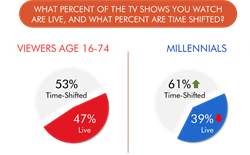 In a typical week, TV consumers say that they watch more time-shifted TV shows than live ones.
Boston, MA (PRWEB) February 26, 2015
Among the most disruptive developments in the TV industry have been technologies that allow consumers to time-shift their viewing: in particular, the DVR, VOD, and online platforms. That's because beyond offering convenience, they have the potential to change the fundamentals of what "watching TV" means to consumers.
In fact, a new study from Hub Entertainment Research shows that these technologies continue to erode consumers' association of TV shows with a particular day-and-time, linear schedule.

Viewers time-shift more TV than they watch live. According to consumers' own estimates, the average viewer watches 47% of their TV shows live and 53% time-shifted.
Among Millennials, time shifting is even more common. Viewers 16-34 say that only 39% of the TV they watch in a typical week is live.
A plus for traditional TV providers: most time-shifted viewing still happens through a set top box. DVRs (34%) and VOD (19%) account for more than half of all time-shifted viewing.
Other findings from the study indicate that time shifting will continue to create challenges when it comes to monetizing TV viewing through advertising.
81% of VOD users say that when fast-forwarding is enabled, they fast-forward through most or all of the commercials during a show. In fact, almost half (49%) say they fast-forward through every ad.
The results aren't much different among DVR users: 89% say they fast forward through most or all ads, and more than half (56%) say they use fast-forward at every commercial break.
"The fact that the average consumer perceives that they watch more time-shifted content than live TV is a big deal," says Jon Giegengack, one of the study authors. "Whether their perceived consumption matches their true behavior remains to be seen. But it does indicate that in a very short time, viewers have shed the paradigm that TV is a thing you do on particular days and at particular times."
"The good news for Pay TV providers is that their products and services—the DVR and VOD—are still the primary sources of time-shifting," says Peter Fondulas, the other study author. "The challenge is that neither option offers a strong solution for monetizing viewing. As we've seen in our other research*, online platforms have made greater progress in this area, with consumers more accepting of tools like countdown clocks during ads."
* Advertising in an OTT World, Hub Entertainment Research, 2014
About this Research
"Time Shifting" is a new research study among 1,200 US consumers with broadband, and who watch at least 5 hours of TV per week. A report with additional findings from this study is available as a free download from Hub Entertainment Research. The study was conducted in February 2015.
About Hub Entertainment Research
Hub Entertainment Research is a market-research firm with deep expertise in television, movies, videogames, music, publishing, and sports—anywhere that entertainment and new technology overlap. In the television industry, Hub analysts work with networks, content producers, MSOs, and digital distributors. Our job is to help our clients understand the greatest risks and most-promising opportunities facing their companies and to reveal the clearest paths to success in a changing marketplace. For more information, please visit us at http://www.hubresearchllc.com.