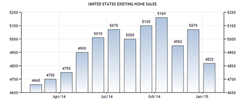 Peoples Home Equity is confident that cities in the Midwest and Northeast will see their housing markets strengthen after the winter
Chicago, IL (PRWEB) February 24, 2015
Lenders like Peoples Home Equity have had time to digest two of the numerous data points that are scheduled to be released this week. Yesterday, existing home sales were released as worse than expected for January. In addition, the S&P/Case-Shiller Home Price Index was released today which showed growth higher than expected for December.
Existing Home Sales
On Monday, February 23rd, existing home sales for January were released by the National Association of Realtors. Sales fell -4.9% which was far more than the market expectations at just -0.8%. At an annual pace of 4.82 million sales, the report was the lowest since May 2014.
Lawrence Yun, Chief Economist at the National Association of Realtors said, "January housing data can be volatile because of seasonal influences, but low housing supply and the ongoing rise in home prices above the pace of inflation appeared to slow sales despite interest rates remaining near historic lows." He also noted that "Realtors® are reporting that low rates are attracting potential buyers, but the lack of new and affordable listings is leading some to delay decisions."
Peoples Home Equity was not so surprised by the report since the lender closely follows weekly median home sales which gave the lender a leading indication of a weak market in January. Looking forward, readers should not be surprised of further market weakness in January and February but should look for a rise in sales come March and April.
S&P/Case-Shiller Home Price Index
Today, S&P Dow Jones Indices released their S&P/Case-Shiller Home Price Index for December. The report was mixed as "Miami and Denver led all cities in December with increases of 0.7% and 0.5% respectively. Chicago and Cleveland offset those gains by reporting decreases of -0.9% and -0.5% respectively."
David M. Blitzer, Managing Director and Chairman of the Index Committee at S&P Dow Jones Indices stated, "The housing recovery is faltering. While prices and sales of existing homes are close to normal, construction and new home sales remain weak. Before the current business cycle, any time housing starts were at their current level of about one million at annual rates, the economy was in a recession."
Peoples Home Equity takes a different view, the lender thinks housing starts remain as respectable levels during this winter and existing home sales are a bit weak. The lender believes, existing home sales may strengthen after Americans finish filling their 2045 taxes. Individuals must first file their 2014 taxes to prove their new found employment or higher earnings last year before applying for a home loan.
On a year-over-year basis David M. Blitzer did give a great commentary highlighting "clear regional patterns. The western half of the nation plus Miami and Atlanta enjoyed year-over-year increases of 5% or more. San Francisco and Miami were the strongest. Dallas, Denver, Las Vegas and Atlanta also experienced solid gains. Phoenix was an exception to the western strength with only a 2.4% increase; San Diego was a bit under 5% at 4.8%. The Midwest and Northeast lagged. Boston was the strongest among this weak group with prices up."
Peoples Home Equity is confident that cities in the Midwest and Northeast will see their housing markets strengthen after the winter. The Midwest remains a very attractive market for investors due to the high yield of rent versus the cost of ownership.
If in need of a mortgage, contact a Peoples Home Equity loan officer today at: 262-563