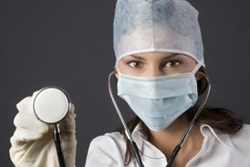 Physical therapy work has grown in demand due to the increase in elderly patients and the advancements in medicine allowing injured persons to regain some mobility
Phoenix, AZ (PRWEB) February 25, 2015
Despite the years of declining job markets, the health care industry has consistently grown in its need for medical workers. A combination of the aging baby-boomer generation, the advances in all forms of medical care, and the general population growth with access to health care have all contributed to the growing need for health workers.
MedicalSchoolsInUSA.com has released their 2015 report of the most in-demand medical jobs that are showing increased openings for qualified persons. "Nine of this year's most wanted health care worker jobs according to 2014's stats on needed jobs are now listed according to their schooling requirements, along with a summary of what the job entails," said MedicalSchoolsinUSA spokesperson Stephan Trumball.
The top of the list includes two highly desirable jobs that require at minimum, a Bachelor's degree or higher. Registered nurses have been highly sought after for many years, as their presence is crucial in virtually every medical office, hospital, and facility. Registered nurses require at least a four year Bachelor's degree in nursing to work in office patient care, emergency care, and more.
Trailing not far behind is the position of Physical Therapist. Though a PT position can be acquired with just a diploma or certificate, health care facilities are seeking those with a Bachelor's degree or higher. "Physical therapy work has grown in demand due to the increase in elderly patients and the advancements in medicine allowing injured persons to regain some mobility," said Trumball.
Other sought after jobs for 2015 fall into certification or diploma programs that generally come from specialty schools or shorter programs. These positions are desperately needed to help doctors and physicians. Dental and medical assistants are among the still in-demand jobs and have been since 2013.
MedicalSchoolsInUSA rounds off its list with jobs in the health care field that (in most states) only require on-the-job training. Pharmacy technicians top that list as they are the general staff of a pharmacy and are required in bulk at most pharmaceutical dispensaries.
View the rest of 2015's most needed medical jobs at MedicalSchoolsinUsa.com and read details for what each position requires. In addition, MedicalSchoolsinUsa offers detailed articles on many medical positions along with lists of schools by state that offer various degree programs for medical jobs.
The website does not require a sign-up or any charges to access content, and new schools are being added throughout the year to help the upcoming generation fill these much-needed roles in healthcare. "Visit our site and see for yourself what future your might want to start pursuing," said Trumball.