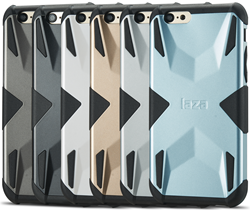 The X Armor eliminates the compromise between protection and aesthetic, and stands the test of everyday use.
Houston, TX (PRWEB) February 25, 2015
Laza has officially released a new rugged case for the Apple iPhone 6, iPhone 6 Plus and Samsung Galaxy 5. Inspired by the power and panache of superheroes, Laza's latest smartphone case is constructed to both look and to perform like superhero armor. The patent pending X Armor is a lightweight case featuring a hard external shield that is made from an impact resistant polycarbonate, and an internal semi-rigid elastomer core that absorbs shock. The rugged dual-layer case provides heavy duty drop protection and prevents impact damage on all sides of the device.
Laza has managed to blur the line between stylish and protective cases with the X Armor design. According to Laza's creative team, "The number one consumer dissatisfaction with rugged cases is their bulk and lack of styling. The X Armor eliminates the compromise between protection and aesthetic, and stands the test of everyday use."
A unique aspect of the X Armor is the protection provided by 11 bumpers that stop damage at the point of impact. The corners have built-in air cushions instead of relying on sheer size, thereby reducing the thickness of the case. The wide screen bumper is raised 1.7 mm which allows users to lay their devices face-down without worrying about scratches on the device screen. The side edges and back bumpers are raised 1 mm each beyond the outer shield. The outer shield itself is cut with distinct beveled edges and its brilliant metallic finish is also resistant to fingerprints.
The X Armor joins Laza's lineup of protective cases, including the popular Rugged Fusion dual-layer case, as the brand continues to expand its array of sophisticated and functional products. The X Armor is available for purchase on Amazon and http://www.lazawireless.com in six vivid colors.
About Laza Wireless
Started in 2000, Laza is a leading designer and manufacturer of phone accessories. Based in Houston, Laza's products include Zcell™ Extended Batteries, chargers, power banks, cases and car mounts. Laza designs products with customers in mind by providing reliable power and protective solutions that safeguard devices and sustain connectivity.