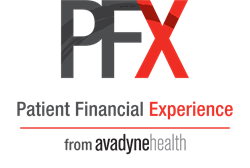 San Diego, CA (PRWEB) February 25, 2015
Avadyne Health, a leading provider of patient-centric outsourced revenue cycle management services and technology, is pleased to announce the launch of the company's new website: http://www.avadynehealth.com.
The entire site has been refocused to reflect the company's position around the Patient Financial Experience (PFX) concept.
"For years, Avadyne has been a leader in the business of talking to patients about their financial responsibility. With our world-class team and extraordinary technology, we felt compelled to take the final step and combine all of our capabilities to deliver exceptionally positive Patient Financial Experience," said Lincoln Fish, Senior Vice President of Sales and Marketing. "We've all dealt with medical issues for ourselves or a loved one, and many people will tell you that the most frustrating part of the process was not the clinical side, but simply trying to understand the charges and payments involved. And since this frustration often results in a loss of patient loyalty, providers need to address it in a much more structured way. That's why we created the PFX model."
The new website features a 15-question self-assessment survey, which delivers four scores: people/process, technology/metrics, and communication/culture and an overall score. The tool is designed to create instant feedback on where an organization stands on Patient Financial Experience, based on self-reporting.
"If users look in the mirror and answer the questions to the best of their knowledge, they will get very valuable insight," said Fish, who helped spearhead the creation of financial patient satisfaction survey tools at HIMSS.
"Avadyne's mission is to ensure Healthcare Providers realize maximum value and loyalty from their patients," said Moises Eilemberg, CEO of Avadyne. "By redefining how we approach the healthcare industry and its patients, we will help our clients set a new standard for the Patient Financial Experience."
About Avadyne Health
Avadyne Health is a revenue cycle workflow technology and outsourced services firm serving more than 220 hospitals in 33 states. Avadyne services include self-pay follow-up, A/R and denial follow-up, and collection of post write-off accounts. Avadyne technology offerings include denials, A/R, and patient access workflow, along with complete dashboards and reports. Avadyne leads the industry in self-pay innovation with its Total Patient Experience approach and in technology with its Next-in-Queue workflow. Client teams use Avadyne's workpooling technology to maximize patient access and business office outcomes. The Avadyne team works on the same technology, so the firm can continuously adapt to meet client goals and challenges, and workloads, either in a fully outsourced capacity or as a "SafetyNet" for clients. For more information, visit http://www.avadynehealth.com