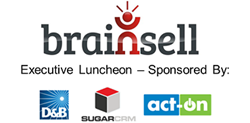 "We're going to bring in what we've learned in the book and bring in our technologies to enhance the predictable revenue process. As a result of Predictable Revenue, we grew our business over 30% last year," said Jim Ward, President at BrainSell
Topsfield, MA (PRWEB) February 25, 2015
Building on their own, personal success utilizing the Predictable Revenue model, BrainSell will be holding a similarly-themed event at The Capital Grille in Burlington, Massachusetts. Lunch will be included with registration, along with the book that the event is themed after, Predictable Revenue by Aaron Ross, which will also be issued to all attendees.
Sign up for BrainSell's in person event here:
http://bit.ly/predictable-revenue-event
Where: The Capital Grille, Wayside Commons, Burlington, Massachusetts
When: Wednesday, March 11, 11:00 am - 2:00 pm EST
Who should attend this event:
C-level executives, presidents, VPs, directors and business owners who want to create a Predictable Revenue model for their business. The reason Aaron Ross wrote the book is because he didn't know how to build a professional sales organization.
"We're taking the book a step forward. We're going to bring in what we've learned in the book and explain and demonstrate how technology can enhance the predictable revenue process. As a result of following the predictable revenue model, we grew our business over 30 percent last year," said Jim Ward, President of BrainSell. "We're excited to share the secrets of our business, and more importantly, how to use the technology to support what Aaron Ross is talking about in the book."
One of the biggest challenges for business executives everywhere is creating a foundation that their sales and marketing campaigns can run on. This event will step attendees through the steps to build the foundation for a Predictable Revenue sales organization.
During the event, BrainSell will discuss:

Assembly Line Selling - What is it and how to support sales with technology
Creating a predictable revenue stream
Bringing data into your CRM in a predictable fashion
Using Marketing Automation tools to boost your effectiveness in sales and marketing
BrainSell will be hosting the event with partners SugarCRM, Act-On and Dun & Bradstreet. Each company will have representatives speaking at the event, each with their own specific topic directed toward the theme.
Topics to be covered during the event:
The Role of the MDR and SDR and Cold Calling 2.0
Creating a Predictable Revenue Stream Without Adding Human Capital
The Foundation of Your Revenue Stream Starts With CRM (Presented by SugarCRM)
Data Providers as Another Selling Layer (Presented by D&B)
Act-On – As Simple as you Want, as Robust as you Need (Presented by Act-On)
BrainSell was recently named a SugarCRM Elite Partner (the highest partnership level available), as well as an Act-On Platinum Partner. BrainSell's Executive VP, Sonja Fridell, sees great potential to meet face to face with the leaders of some of Boston's best companies. "There's no magic behind this model." said Fridell. "You just need to be armed with the right tools and people to bring your sales team to the next level. We've done it, and we're excited to show others how.
As part of their suite of services, BrainSell provides full implementation, migration, consulting and training services for many CRM, ERP, marketing and business process platforms. BrainSell is a full-service business consultancy and has partner relationships with Salesforce, SugarCRM, Infor, Microsoft, NetSuite and Intuit among others.
About BrainSell
BrainSell is a business solutions company that is dedicated to helping businesses grow, create a delighted customer base and achieve grand success. BrainSell provides comprehensive ERP, CRM, and marketing automation solutions and services, including training, implementation and software development. Founded in 1994 and headquartered in Topsfield, Massachusetts, BrainSell continues to grow in product knowledge and offerings.