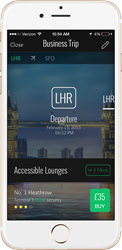 San Francisco, CA (PRWEB) February 26, 2015
LoungeBuddy, the only single resource for travellers to discover, book and access airport lounges around the world, and No.1 Traveller, the premium airport lounge provider in the United Kingdom, today announced their partnership, allowing all travellers to instantly book access to No.1 Traveller's award-winning lounge collection directly from the LoungeBuddy mobile App using Apple Pay or any major credit card.
"No.1 Traveller consistently focuses on creating an outstanding and memorable experience for their customers. This is exemplified not only in the way the lounges are designed but also in the amenities offered. We're very excited to be able to offer No.1 Traveller lounges to our LoungeBuddy customers," said LoungeBuddy founder and CEO, Tyler Dikman.
Available to all passengers regardless of carrier, class of service, or affinity membership, No.1 Traveller offers a vast array of premium amenities that appeal to business and leisure travellers, including complimentary hot food from a bistro-style menu, fully-tended bars featuring complimentary soft and alcoholic beverages, free unlimited Wi-Fi, daily newspapers and magazines, TVs, and of course, panoramic views of the runway.
Mark Woodcock, Commercial Director at No.1 Traveller said: "As the first mobile app to provide curated airport lounge information and instant booking, LoungeBuddy is a must-have for travellers seeking an exclusive pre-flight experience. We are delighted to partner with LoungeBuddy to introduce their members to the premium departure services that No.1 Traveller offers."
Travellers departing from London Heathrow (LHR) Terminal 3, London Gatwick (LGW) North and South Terminals, Birmingham (BHX), and Edinburgh (EDI) will now be able to purchase lounge access directly from their mobile phone and be in a No.1 lounge 60 seconds later.
About LoungeBuddy
LoungeBuddy is the only single resource for travellers to discover, book, and access airport lounges around the world. Hundreds of thousands of members use LoungeBuddy to discover their perfect airport oasis and improve their travel experience.
LoungeBuddy covers over 2,000 airport lounges in more than 600 airports worldwide. The free LoungeBuddy App is available on iOS and Android. To learn more about LoungeBuddy, visit http://www.loungebuddy.com/.
About No.1 Traveller
No.1 Traveller offers a range of smart departure and arrival services designed to take the stress out of getting to and through the airport. Their collection of award-winning services which include premium airport lounges, airport bedrooms and travel spas, can be accessed by anyone, regardless of their airline or seat class, making pre-flight luxury with a hefty price tag a thing of the past. To learn more about No.1 Traveller, visit http://www.no1traveller.com/.
MEDIA CONTACTS:
Brent Griffith
VP of Marketing at LoungeBuddy
E-mail: brent(AT)loungebuddy.com
Charlie Spencer
Communications Manager, No.1 Traveller
Email: Charlie.Spencer(AT)No1Traveller.com