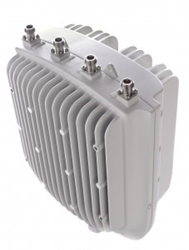 We're proud to be partnering with Telrad Networks, to be able to offer their dual-mode WiMAX and LTE technologies, and help our clients deploy networks that will accompany them far into the future.
St. Louis, Missouri - WISPAmerica (PRWEB) February 25, 2015
Telrad Networks, a global provider of innovative LTE wireless and telecom solutions, today announced a new strategic partnership with ISP Supplies based in College Station, Texas, to distribute and support Telrad LTE solutions in North America. The agreement will enable ISP Supplies to offer an expanded portfolio of solutions well-suited to address the connectivity needs of Wireless Internet Service Providers (WISPs), particularly those facing Non-Line-of-Sight (NLOS) issues.
ISP Supplies' customers include fixed and mobile operators that are seeking cost-effective coverage and capacity solutions for their networks. Telrad's LTE BreezeCOMPACT is the world's first LTE-capable Software Defined Radio (SDR) base station, designed for U.S. and Canadian 3.65 GHz frequency bands. The BreezeCOMPACT maximizes coverage, even in NLOS conditions.
"This partnership with ISP Supplies is a natural fit for Telrad, since our solutions are perfectly suited to the typical ISP Supplies customer," commented Ran Bukshpan, CEO of Telrad. "Based on their position in the WISP market, we're confident that this relationship will help Telrad continue its rapid growth and market penetration. We look forward to our combined efforts delivering LTE communication throughout North America."
"The North American market requires easy-to-use, fast-to-market wireless broadband networking products to help them maintain a competitive advantage," said Steve Discher, Owner of ISP Supplies. "We're proud to be partnering with Telrad Networks, to be able to offer their dual-mode WiMAX and LTE technologies, and help our clients deploy networks that will accompany them far into the future."
About ISP Supplies
ISP Supplies is a leading provider of top quality wired and wireless networking equipment and services including all aspects of network design and deployment, RF planning and frequency coordination. Centrally located in College Station, Texas, the company's experienced team of network engineers help customers to build, operate and maintain point-to-point and point-to-multipoint licensed and unlicensed frequency networks. ISP Supplies also specializes in provisioning Wi-Fi networks for small offices, outdoor venues and large enterprise deployments. (http://www.ispsupplies.com/)
About Telrad Networks
Telrad Networks is a global provider of innovative LTE telecom solutions, boasting over 280 4G deployments in 100 countries. Telrad stands at the forefront of the technology evolution of next-generation TD-LTE solutions in the sub-6 GHz market. Since 1951, the company has been a recognized pioneer in the telecom industry, facilitating the connectivity needs of millions of end-users through operators, ISPs and enterprises around the world. (http://www.telrad.com)