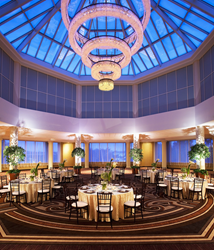 To have good relationships with people you really have to know them and their history," said Sam El-Sheikh, "Executive Chef. "It's the same with food.
TYSONS, VA (PRWEB) February 25, 2015
This year the Sheraton Tysons Hotel is proud to welcome two exceptional individuals to the team. As Northern Virginia is evolving and growing rapidly, and will over the next decade, the Hotel is excited about the new team members who bring remarkable experience and success to the Sheraton Tysons Team.
With the recent change in the hotel name a mere eight months ago, the Sheraton Tysons team has been full steam ahead into the new year, working to continue the tradition of exceptional service, and a warm connected sense of community. By fine tuning procedures and continuing to focus on the guest experience, the Sheraton Tysons is looking forward to a prosperous future. The hotel is managed by Crescent Hotels & Resorts which operates over 100 hotels throughout North American, including 16 hotels in the Washington, DC area.
Uwe Roehricht – Director of Food & Beverage:
Armed with over twenty years of experience in various luxury city center and resort properties within the USA and Bermuda, Uwe Roehricht is the epitome of one who shows drive and dedication. Ready to take action, Roehricht has joined the team by hitting the ground running and is looking forward to enhancing Sheraton Tysons service excellence. New enhancements, such as the highly popular Valentine's Day dinner, have already been manifesting success in the hotel's restaurant, Brix and Ale. However, the restaurant is just the beginning of the reach of success for Roehricht, as the vast meeting space and top-notch F&B team has a long standing reputation for taking meetings and social events to the next level. To meet and exceed this reputation, he will use his own take on the common term "B2B," which to him means "Back to Basics." When asked for a phrase or motto that encapsulated the beliefs and ideals guiding him, Roehricht was quoted saying, "You can be a professional, but it's the attitude that you bring to the job that generates success."
Sam El-Sheikh – Executive Chef:
With the understanding of a diverse range of cuisines and a flare for the creative, Chef Sam El-Sheikh has come on board with impressive contributions of commitment and wisdom. An Executive Chef since 2004, and with extensive prior culinary experience, he is excited to join the Sheraton Tysons team and inspire innovative cuisine and new services. Chef El-Sheikh has honed his skills in a multitude of top locations such as the Four Seasons Hotel, Citronelle Restaurant, and studied under the tutelage of world-renowned chefs like Michel Richard, and Bank Szerenyi. Chef El-Sheikh's attitude towards the food he prepares can be epitomized in his quote, "To have good relationships with people you really have to know them and their history. It's the same with food." Previously, he has been named one of the Washington DC area's "Top 50 Chefs" by Capital Cuisine Magazine and the Mid Atlantic Restaurant Digest.
About the Sheraton Tysons Hotel
Each guest will experience a fresh contemporary look, a warm relaxed environment and a friendly welcome, all within an urban retreat setting. Conveniently located to Washington DC and the heart of Northern Virginia, guests will find an abundance of activity to include dining, shopping, local business, historical sites, national parks, wineries and Virginia's majestic countryside. Nestled in the newly developed and Metrorail accessible neighborhood called Tysons West, the Sheraton Tysons Hotel acts as a home for Business and Social travelers visiting the region. The Sheraton Tysons Hotel provides a place where colleagues, co-workers, friends and family may "connect" while creating meaningful memories and experiences. For more information, visit the hotel website, call (703) 448 1234, like on Facebook or follow on Twitter.
The Sheraton Tysons Hotel is under the management of Crescent Hotels & Resorts and owned by The JBG Companies.
About Crescent Hotels & Resorts
Crescent Hotels & Resorts is a nationally recognized, top-5 operator of hotels and resorts. Crescent currently operates over 100 hotels and resorts in 36 states in the US and 4 provinces in Canada. Crescent is one of the few elite management companies approved to operate upper-upscale and luxury hotels under the brand families of Marriott, Hilton, Starwood, Hyatt and IHG. Crescent also operates a collection of legendary independent hotels and resorts. Crescent's clients are made up of hotel REITs, private equity firms and major developers. For more information, please visit http://www.chrco.com.
About The JBG Companies
Headquartered in Chevy Chase, Maryland, The JBG Companies is a private real estate investment firm that develops, owns and manages office, residential, hotel and retail properties. The company has more than $10 billion in assets under management and development in the Washington Metropolitan Area. Since 1960, JBG has been active in the communities where it invests, striving to make a positive impact. More information can be found by visiting the company's website: http://www.JBG.com, or by calling 240.333.3600.
About Sheraton Hotels & Resorts
Sheraton helps guests make connections at more than 400 hotels in 70 countries around the world and recently completed a $6 billion global revitalization and is now in the midst of a $6 billion global expansion over the next three years. Sheraton is owned by and is the largest and most global brand of Starwood Hotels & Resorts Worldwide, Inc. is one of the leading hotel and leisure companies in the world with 1,090 properties in 100 countries and territories with 154,000 employees at its owned and managed properties. Starwood Hotels is a fully integrated owner, operator and franchisor of hotels, resorts and residences with the following internationally renowned brands: St. Regis®, The Luxury Collection®, W®, Westin®, Le Méridien®, Sheraton®, Four Points® by Sheraton, Aloft®, and ElementSM. The company boasts one of the industry's leading loyalty programs, Starwood Preferred Guest (SPG), allowing members to earn and redeem points for room stays, room upgrades and flights, with no blackout dates. Starwood Hotels also owns Starwood Vacation Ownership, Inc., one of the premier developers and operators of high quality vacation interval ownership resorts. For more information, please visit http://www.starwoodhotels.com
rw Stayinwashingtondc.com #stayinwashdc