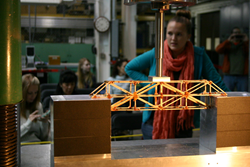 DENVER (PRWEB) February 24, 2015
High school students from across Colorado will put their engineering skills to the test at the 48th Annual Colorado High School Bridge Building Competition on Saturday, Feb. 28. Prizes include scholarships and the opportunity to compete at the international contest in Portland, Oregon.
"Reclamation's science and engineering expertise is known throughout the world and provides a unique career opportunity for young professionals," said Westin Joy, Westin Joy, P.E., Civil Engineer with the Materials Engineering and Research Laboratory. "This long-established event gives students a chance to explore science, technology, engineering and math through a fun, practical application."
The event will take place at 8:00 a.m. in the Bureau of Reclamation's Materials Engineering and Research Laboratory at the Denver Federal Center. The bridges, made out of basswood, glue and other basic materials, are judged on the amount of weight they can hold versus their size.
In addition to the competition, attendees and their families will explore Reclamation's laboratories and facilities with professional engineers, getting a chance to see research and science in action. Students can visit the humidity room, where working models of structures and dam construction materials are cured for optimum strength and will witness a 2,000 pound concrete cylinder crushed by a machine capable of 5 million pounds of compression.
To attend this annual event, please enter the Denver Federal Center through Gate 1 on Kipling Ave. Signs will direct visitors to Building 56, where the competition is held.
The competition is sponsored by the Bureau of Reclamation, the Professional Engineers of Colorado and the American Council of Engineering Companies of Colorado.