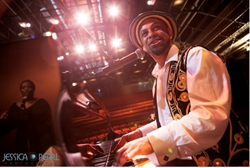 Musically celebrating life and drawing on the similarities as opposed to the differences
San Rafael, CA (PRWEB) February 26, 2015
The Prince of Kosher Gospel returns to the Osher Marin JCC for a high-energy captivating performance.
Joshua Nelson brings his extraordinary message of hope, unity and spirituality through kosher gospel; a marriage of Jewish religious lyrics and meanings, with the soulful sounds of American gospel music.
When Joshua was eight he discovered an album by Mahalia Jackson, the Queen of Gospel, in his grandparents' record collection, and he fell in love with her singing. During his teens and early twenties, he became widely celebrated as a gospel singer continuing Jackson's legacy.
For his audiences, whatever their faith or heritage, kosher gospel has been a revelation. Now in his early thirties, Nelson has performed around the world, for Presidents, major music festivals—and for Oprah, who named him a "Next Big Thing". He has produced a stellar album, Mi Chamocha, sung with stars from Aretha Franklin to the Klezmatics, and has served as the subject of the acclaimed documentary film Keep on Walking.
Whatever the venue, Joshua Nelson, the Prince of Kosher Gospel, brings people—and cultures—together in joyous song. A great uplifting performance for all audiences, whatever their age, faith or heritage.
"Cultural traditions typically change slowly, over the long arc of history. But occasionally a folk cultural innovation emerges that is startlingly fresh in its outward manifestation, although it remains deeply—even reverently—traditional at its core. You may have never heard of "kosher gospel" music before, but the inspirational performances of Joshua Nelson, the creator of this style, will surely call out to your soul."
WHAT: Rockin' inspiring American Gospel, with Jewish meaning.
WHO: All are invited. No membership or affiliation necessary.
TICKETS: $10 - $35 with VIP, Reserved & General Admission choices
WHEN: Thurs. April 23@ 7:30pm ~ Doors @ 7:00.
WHERE: The Osher Marin JCC, 200 N San Pedro Rd, San Rafael, 1/2 mile E off 101
PARKING: Ample FREE parking.
TICKETS: Available at http://www.marinjcc.org/Joshua
WATCH VIDEO
This event is made possible by support from: Dr. Martin & Farron Brotman & Family, Brandeis Hillel Day School, Congregation Rodef Sholom, Congregation Kol Shofar and the Jewish Community Federation & Endowment Fund.
THE KANBAR CENTER FOR THE PERFORMING ARTS is the Performing Arts Department within the Osher Marin Jewish Community Center in San Rafael, California. For close to 25 years they have spread the power of music, voice, humor, taste, culture, movement and words throughout the community by presenting classical music, comedy, musical concerts, jazz, theater and performance in the grand Hoytt Theater, lectures, chats and demonstrations in the Kurland lounge and great world music & dancing for all ages outdoors under summer skies on Swig Field. All are welcome; no membership is required to attend.