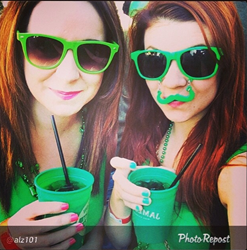 St Louis, MO (PRWEB) February 24, 2015
Tigín Irish Pub in St Louis has events scheduled throughout March for St Patrick's Day revelers. With two days to celebrate - plus other special events scheduled throughout the month - the Irish, Irish-heritage and Irish-wannabes can call the pub home during the "St Patrick's Day Season" On March 17, doors open at 9:00 a.m for Pints & Pancakes for $5. Full menu available starting at 11:00a.m., including lunch portion corned beef and cabbage, fish and chips and a corned beef sandwich with apple onion relish on special for $9.95. Live music and entertainment starts at 4:00 p.m with Those Guys and Daddy's Girl. No cover. March 14, or Super Saturday, is also Parade Day and doors open at 7:00 a.m. for Pancakes and Pints. A full line up in the heated tent includes Irish Dancers and live music from Those Guys, Dance Floor Riot, Spontaneous Serendipity and DJ Jud at 10:00p.m. until close.
St Patrick's Day 2015 is not just a day at Tigín Irish Pub, its a season. Here's what to expect during St. Louis' most anticipated Paddy's celebration this March:
Irish Session, Sunday, March 8, 4:00 - 7:00 p.m. - A traditional Irish Session with Celtica.
4th Annual Perfect Pint Contest, Monday, March 9, 9:00 p.m. - A neighborhood "pour-off" with a cash prize of $100 is up for grabs as serious bragging rights are at stake. Free pints for all participants.
Super Paddy's Day Pub Quiz – Tuesday, March 10, 8:00 p.m. -An all-Ireland themed Pub Quiz. Drink specials and prizes given all night. Free to play and new teams are welcome.
Jameson Whiskey Dinner – Wednesday, March 11 at 7:00p.m. - Start St. Patrick's Day season off right with a 3 course dinner and Jameson whiskey sampling event. Only $35 per person. Seats are limited. Click here to purchase tickets and view the menu.
Super Saturday / Parade Day, Saturday, March 14, 7:00 a.m. - Tigín Irish Pub is once again the command center for Parade Day revelers! Doors open early for Pancakes and Pints, available until 11:00 a.m. and a full menu all day. As always, Tigín is the place to be post-parade. Live music and Irish dancers will hit the stage and last until late in the heated tent. $5 cover all day.
Sunday, Bloody Sunday, March 15, 9:00 a.m. - Wake up early to get your fill of European sports including 6 Nations Rugby and English Premier League soccer. Bloody Mary specials and brunch are available 'til 3:00 p.m.
St. Louis' Biggest St. Patrick's Day Party, Tuesday, March 17, 8:00 a.m. - Start your St. Paddy's off right with Tigín Irish Pub! For only $5, you can enjoy a breakfast of Pancakes and Pints - and eat as many pancakes as you like! A mischievous leprechaun has certainly arranged a deal! A full lunch menu, as well as some specials, will be available starting at 11:00 a.m. This annual St. Patrick's Day Party will provide brilliant music starting at 4:00 p.m. and a cracking good time all day and deep into the night! Prepare to celebrate all things Irish, with a gift of no cover!
Door cover: $5 cover on March 14th, 21 and over restrictions are noted throughout the special events.
About Tigín Irish Pub
Tigín (pronounced ta-geen and is Irish for "small cottage") Irish Pub was the first Irish pub to be designed and constructed in Ireland and shipped and installed in St Louis. Tigín is distinguished by its genuine Irish hospitality, quality of its pints and craic (pronounced 'crack', a uniquely Irish form of fun). Tigín has been voted 'Best Of' by a number of local and national publications. Tigín is an official US Soccer bar. Get more information by visiting the pub's website page, Facebook page or by following @tiginstlouis on Twitter and following the hashtags #stpatricksday2015 #fado2015