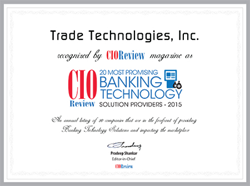 Trade Technologies has been on our radar for some time for stirring a revolution in the trade finance and supply-chain space.
Austin, TX (PRWEB) February 25, 2015
AUSTIN, TX (February XX, 2015) – Trade Technologies, the global leader in providing international trade document solutions, has been selected by CIO Review Magazine for its annual list of the 20 Most Promising Banking Technology Solution Providers. The annual list of companies is selected by a panel of experts and members of CIO Review's editorial board to recognize and promote technology entrepreneurship. The positioning is based on an evaluation of the company's offerings, core competency, news/press releases, client testimonials, milestones and other recognitions.
"Trade Technologies has been on our radar for some time for stirring a revolution in the trade finance and supply-chain space, and we are happy to showcase them this year due to their continuing excellence in delivering transformative technology-driven solutions," said Harvi Sachar, Publisher and Founder, CIO Review. "Trade Technologies' solutions enabled efficiency and paperless trade to the benefit of its exporter and major trade bank customers around the globe. We are excited to have them featured on our top companies list."
"Trade Technologies is honored to be recognized by CIO Review's panel of experts and thought leaders as a top banking technology solution provider," said Kirk Lundburg, CEO of Trade Technologies. "This recognition is a reflection of our 15 year commitment to improving efficiency and profitability by automating and streamlining global trade for exporters and major trade banks."
About CIO Review
CIO Review constantly endeavors to identify "The Best" in a variety of areas important to tech business. Through nominations and consultations with industry leaders, our editors choose the best in different domains. Bank Technology Solution Providers is an annual listing of 20 Most Promising Banking Technology Solution Providers in the U.S.
About Trade Technologies
Founded in 1999, Trade Technologies (http://www.tradetechnologies.com) is the largest global provider of technology enabled trade document services and software. From its 13 offices in Asia, Europe and North America, Trade Technologies provides leading exporters, freight forwarders and international trade banks with trade document solutions, training and consulting.
The Company's web-based Global Trade Management platform and outsourced services enable customers to streamline their operations, save money, accelerate payments, and eliminate discrepancies traditionally involved in international letter of credit, documentary collections and open account transactions. More than 1,500 exporters, global trade banks and freight forwarders depend on Trade Technologies' services to process over $9 billion in international trade transactions each year. Trade Technologies was recently voted the "Best Trade Tech Solutions Company" in 2012 by readers of Trade Finance Magazine. In 2011, Trade Technologies won the Presidential "E" Award for Exports through the agency of the U.S. Department of Commerce, the highest recognition any U.S. entity may receive for supporting export growth. In 2010, the Company was awarded a patent on the Trade Technologies' software platform and process.
# # #
Media Contact, for Trade Technologies
Melissa Freeman
512-327-9996
mfreeman(AT)tradetechnologies.com