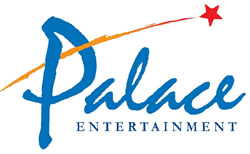 Newport Beach, CA (PRWEB) February 25, 2015
Palace Entertainment, one of the leading leisure park operators in the United States, will be hosting its 2nd annual Chef Toque Challenge on Feb. 27, 2015 in Walnut, Calif. featuring a new judge - Celebrity Chef, Jamie Gwen.
Each year Palace Entertainment brings together its 22 Food & Beverage Directors to discuss the past year's performance and next year's initiatives, as well as hosts the Chef Toque Challenge, an annual "new menu feature" competition.
During the Chef Toque Challenge, Food & Beverage Directors are divided into two teams and asked to compete in three categories: Starter, Entrée, and Dessert. With each course containing food items from the Palace Entertainment Preferred Vendor lists with the exception of produce, the winner of each category will be featured at all Palace Parks as a special menu item for 2015. Categories will be judged on taste, presentation and creativity. Chef Jamie Gwen will be joining Palace Entertainment's Vice President of Food & Beverage Albert Cabuco and Sysco Corporation Regional Vice President, Multi Unit Sales, Debbie Martin in judging the two team's courses.
Jamie Gwen is a Celebrity Chef, Certified Sommelier, Lifestyle Expert and four-time Cookbook Author. Most recently, Jamie served as a Judge for the Fox TV's "Master Chef" alongside Gordon Ramsey, Graham Elliot and Joe Bastianich. With Jamie's expertise in all things culinary and recent victory on the Food Network's "Cutthroat Kitchen," Palace Entertainment is humbled to have her on the judging panel for 2015.
With a new judge to help stir up the competition this year, Palace Entertainment is excited to see what delicious dishes the chefs will present. The Chef Toque Challenge will occur at Sysco Los Angeles Friday, Feb. 27, 2015, 1:00pm – 4:00pm.
About Palace Entertainment
Palace Entertainment is one of the leading leisure park operators in the United States. With parks located in 10 states, Palace Entertainment continues its expansion of brands within the family entertainment sector. The company operates Kennywood amusement park in Pennsylvania, Noah's Ark Water Park in Wisconsin, Splish Splash Water Park in New York, and Raging Waters in California, among many other family favorite destinations. Palace Entertainment's parks provide family oriented and affordable attractions to visitors of all ages, offering a wide range of attractions, such as roller coasters, Ferris wheels, live shows, variable depth pools, water slides, animal shows, miniature golf courses and arcade games. Palace Entertainment greets millions visitors annually.