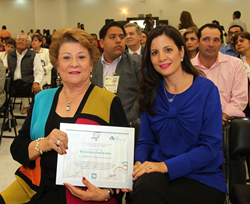 Gilberto Salazar Serrano is recognized for his work(s) of altruism.
Hermosillo, Sonora (PRWEB) February 26, 2015
Gilberto Salazar Serrano, founder of Videxport S.A. de C.V. and father of its current director, Gilberto Salazar Escoboza, was one of five recipients in a symbolic presentation of awards by the Private Welfare Board of Sonora at the "Passion to Serve" event facilities Expo Forum on February 17, 2015.
Mr. Salazar has been a principal donator to Private Welfare Institutions (I.A.P Institutions) in Mexico, notably, Ehui Rehabilitation Integral A.C. The Chairman of J.A.P. Norberto Larrínaga presented the award and said, "There are many people who have put their bit in for many years without expecting anything in return." Ehui is a Philanthropic Association providing rehabilitation services to people with neuromotor incapabilities, sensory disabilities, and those with behavioral and/or social problems. Ehui services the entire community with special support to low-income and rural area patients.
Mr. Salazar's generous donations have helped Ehui in its mission of providing much needed care to those who otherwise would not have access to it. Ehui conducted the first scientific research study on the Equine in children with cerebral paralysis in Mexico. Ehui specializes in the use of Hippotherapy, which is an alternative therapy of neuro-rehabilitation using horses. It is a complimentary method of the most modern techniques in rehabilitation. Ehui is part of the North American Riding for the Handicapped Association, among others.
Mr. Salazar's expertise in cultivating watermelon and table grapes has led to a thriving business which provides employment opportunities, economic benefits, and welfare programs in Hermosillo and surrounding communities. In keeping with family tradition, Mr. Salazar passed the reigns to his son, Gilberto Salazar Escoboza in 1987. Gilberto Salazar Escoboza has since expanded both the business and the philanthropic efforts of his father. Videxport S.A. de C.V. and Empacadora Frutícola Santa Inés S.A. de C.V. now also grow and export bell peppers and pecans. These companies combined have grown from 200 acres with 300 employees in 1975, to 7,400 acres with 7,000 employees today. They are dedicated to sustainable agriculture and adhere to strict food safety guidelines, including new strict regulations in Mexico and the U.S. They also now offer free health and educational programs, as well as financial programs, upgraded housing and other community benefits to their employees.
For the latest information on Videxport S.A. de C.V. and Empacadora Frutícola Santa Inés S.A. de C.V. please visit the following websites: videxport.com and gilbertosalazarescoboza.com.
For more information on Ehui Rehabilitation Integral A.C. http://ehuiequinoterapia.org.