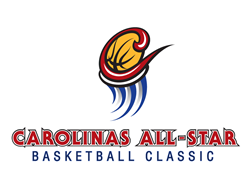 This year's tournament promises to be one of the most exciting yet. John Rhodes Executive Director
Myrtle Beach, SC (PRWEB) February 26, 2015
Forty of the top North and South Carolina high school seniors will represent their school and state in the 18th Annual Carolinas All-Star Basketball Classic March 27-28. Friday's Slam Dunk/3-Point Contest (March 27) is slated for Myrtle Beach High School, while Saturday's tournament (March 28) will take place at Socastee High.
"It is exciting to welcome the Classic to Myrtle Beach again this year. The players are selected from teams across the Carolinas and represent some of the nation's most talented athletes," said Executive Director, John Rhodes.
Deion Holmes from Chesnee High School (SC) is the second leading scorer in the history of South Carolina with an average of 40.2 points per game and a career high of over 3,000+ points. Also playing for South Carolina is Tevin Mack, Dreher High School, a two-time AAA State Player of the year who averages a double double 29.5 PPG and 10 rebounds.
In the women's games, North Carolina standout, Grace Hunter (Athens Drive) is currently averaging 28.1 points per game while Dormans' Taylor Petty (SC) leads her team with an average of 25 points per game, also leading the state in scoring.
Several of the athletes played in the Beach Ball Classic including Jacque Brown of East Carteret High School (NC), and Luke Maye (William A. Hough High School, NC) who, in 2014, was named Beach Ball Classic's Most Outstanding Player.
"These are just a few of the examples of the talent that you will find in this year's Carolinas All-Star Basketball Classic," said Rhodes. "These students work extremely hard in the classroom and on the court to earn the opportunity to participate in this incredible tournament. Approximately 50% of these athletes-- boys and girls from both Carolinas—have already committed to some of the nation's top colleges. For them, the Carolinas All Star Basketball Classic represents their last appearance in a high school basketball tournament," he continued.
While players are initially nominated by their coaches, it is the North and South Carolina Coaches' Associations that make the final selection. The in-depth nomination process, which takes into consideration each player's academic as well as athletic ability, adds to the prestige of the event.
"This year's tournament promises to be one of the most exciting yet," Rhodes said. The two-day event attracts approximately 4,500 fans from throughout the Carolinas.
Tickets for the 18th Annual Carolinas All-Star Basketball Classic are available at Myrtle Beach High School and may be purchased in advance or at the door. For more information visit http://www.carolinaallstarclassic.com or call 843-213-0032.
2015 Schedule of Events:
Friday, March 27th
Event: Slam Dunk & 3- Point Contest
Location: Myrtle Beach High School
Time: 7:00 PM
Tickets: $5 per person
Saturday, March 28th
Event: 18th Annual Carolinas All-Star Basketball Classic
Location: Socastee High School
Time: 6:30 PM Girls; 8:30 PM Boys
Tickets: $10 per person