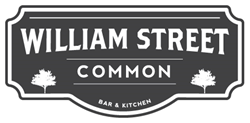 Philadelphia, PA (PRWEB) February 25, 2015
While the communal tables made from turn-of-the-century storage locker doors, curated list of draft beers and inviting comfort food clearly indicate an indoor beer garden at William Street Common, this venue is much more than just that.
The new concept, which opens Thursday, February 26, at 3900 Chestnut Street in Philadelphia, was designed by Avram Hornik, who owns Morgan's Pier and concepted both Winterfest and the 2013 PHS Pop Up Garden on Broad Street. The lessons of how these seasonal beer gardens helped to generate the optimal social setting inspired Hornik to duplicate this environment and apply it to an indoor permanent location in the form of William Street Common.
The bar + kitchen operates with a different style of service, and acts as a prototype for Hornik's future bars, beer gardens and venues. William Street Common employs several unconventional approaches to achieve this, such as simplified flat-pricing on all drinks and most notably, a new compensation model for employees in which tips are neither expected nor allowed, but a living wage is guaranteed.
The venue also boasts a delicious comfort food menu by Chef David Gilberg, a three drink prix-fixe brunch for $22.33 and a variety of rooms to explore, along with a private meeting space. William Street Common is launching in several stages, open immediately on nights and weekends, adding weekday hours March 2 and making more rooms available in the coming months.
"After seeing trends of bistro-style, elevated food menus in a quick service format, I wanted to design William Street Common in a way that combined the best of these evolving service styles in a clear and simple system so that everyone can feel good about their experience," Hornik said. "Employees are able to focus their efforts on customer service and guests are free to create that same level of social intimacy occurring in the seasonal beer gardens."
The curated selection of craft beers, draft wines and specialty cocktails are $5 each at William Street Common, because the menu is designed with a flat pricing model that emphasizes simplicity and quality over quantity – choice products in each category were hand-picked, leaving no need to provide an excess of options. Instead of marking up prices based on percentages, as is traditionally done, William Street Common's prices are calculated using a flat-rate method, creating an environment which is both affordable and authentic. Knowledgeable staff are incentivized to deliver excellent customer service without being influenced by how it affects their sales, and guests can be assured that their server's recommendations are based on taste and preference – not on cost.
All employees are paid a house minimum wage of $15 an hour, as opposed to the standard restaurant server rate. This puts the onus of providing for the employees on the management, not on the guest. A 20 percent service charge is added to all menu items which is matched by the house, and after house minimum wages are paid out, the remainder is divided among the staff through a points system based on level of customer service. An additional five percent of sales is directed to employees for benefits and perks. The system ensures that employees are properly compensated, and is complemented by a training and development program which includes consistent schedules, cross-training and open feedback forums.
Chef Gilberg's casual yet enticing dinner menu offers an assortment of shareable snacks and sandwiches such as Warm Pretzel Bites with beer mustard; Snack Bacon; Roasted Vegetables paired with chickpea pancakes and honey-cumin yogurt; two varieties of homemade pierogies and three options for macaroni and cheese; Bifana with garlic roast pork, sweet mustard and charred red onion; BBQ Short Rib with creamy horseradish and celery root straw; and for something sweet, Warm Apple Fritters with salted-caramel pudding.
Guests are free to find their favorite spot under a string of twinkling lights in the 100-seat Big Room, featuring communal tables and wall seats. They are also welcome to wander to the 50-seat bar area or dedicated vintage arcade space where they can play classics like skeeball and pinball free of charge. In the warmer months, William Street Common will open up its doors for outside seating, set up along the sidewalks of both 39th Street and Chestnut Street. A large private lounge that can accommodate up to 50 people seated (75 for a cocktail reception), is also available for meetings, celebrations and events. As part of the launch, the lounge is currently offering community organizations and nonprofits use of the space for no minimum rate. For guests on-the-go, there are also quick options including snacks, baked goods, pre-prepped sandwiches and take-out beer growlers at the counter.
Weekends feature the Three Drink Brunch. Perfect for a laid-back Saturday or Sunday, the Three Drink Brunch offers guests any three drinks of their choice, an entrée selection from the brunch menu, unlimited coffee and bottomless donuts for the table, for $22.33. The menu includes classic staples such as Biscuits and Sausage Gravy, three varieties of eggs benedict; Buttermilk Pancakes with orange honey-butter; and exciting additions such as Eggs in Purgatory with a spicy tomato sauce, smoked eggplant and feta cheese.
Brunch-goers from Center City and other Philadelphia neighborhoods will find William Street Common convenient for accommodating big groups and for easy access by public transportation – with stops off the 21 bus and Market-Frankford subway line, as well as plenty of nearby street parking, the short trip to University City is minimal compared to the alternative of a two hour wait.
The venue is rolling out its concept in stages and will initially open for nights and weekends, adding weekday hours starting Monday, March 2, and opening the vintage game room Friday March 6. Outdoor seating is expected to be available Wednesday, April 1. William Street Common's hours:Monday – Friday 8 a.m. to 4 p.m. and 5 p.m. to 2 a.m.; Saturday 10 a.m. to 4 p.m. and 5 p.m. to 2 a.m.; Sunday 10 a.m. to 5 p.m.; brunch is available on weekends from 10 a.m. to 4 p.m.
####
William Street Common is an unconventional bar and kitchen at the corner of 39th and Chestnut in the University City neighborhood of Philadelphia. Before it was called 39th Street, William Street was part of Hamilton Village, laid out by developer William Hamilton in the early 1800s. The building constructed at 3900 Chestnut Street was originally Hotel Pennsylvania, designed by Clarence E. Wunder, and completed in 1922. In a similar gesture of hospitality, we invite the community in, to enjoy social conversation and create their own experiences. Open Monday – Friday 8 a.m. to 2 a.m.; Saturday 10 a.m. to 2 a.m.; Sunday 10 a.m. to 5 p.m. For more information, call 215.397.4693 or visit http://www.williamstreetcommon.com.