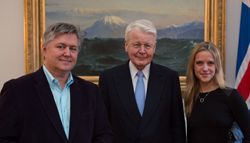 "Our goal was to make IQ more visible while strengthening it as an organization," says Vern Oakley, CEO of Tribe Pictures.
Chatham, New Jersey (PRWEB) February 25, 2015
Vern Oakley, Founder and Creative Director of Tribe Pictures (http://www.tribepictures.com), has officially handed over duties as President of IQ, the International Quorum of Motion Picture Producers, to his successor. Oakley recently took time to recap the accomplishments of his four-year tenure as leader of this invitation-only, peer-to peer-network. Limited to 100 handpicked members, IQ represents a unique body of production company owners spread across all continents whose work spans all genres and formats.
Succeeding Oakley as President of IQ (http://www.internationalquorum.com) is Donna Hampton, CEO and Executive Producer at CAPITOL Productions, based in Sydney, Australia.
As part of his program of advancements at IQ, Oakley worked closely with IQ's board to create a more transparent structure for the association. Prior to his Presidency, IQ operated as a closed organization, with access to its membership roster available only internally. Oakley shepherded a cultural as well as constitutional change at IQ that has thrown the doors open to the workings of this group of producers, whose credits include feature films, documentaries, television programming, corporate films and advertising. IQ members have won some of the most high-profile industry honors, including Cannes Gold Lions, Emmys and Academy Awards.
"Our goal was to make IQ more visible while strengthening it as an organization," Oakley says. "It was more beneficial for our membership to leverage the prestige of IQ by allowing the world to see what truly incredible filmmakers are part of the association. I feel this has been among my strongest contributions during my Presidency."
IQ now has active members in 46 countries. During Oakley's tenure the association created a new website to increase awareness and accessibility and adopted an open directory format to make searching its membership roster easier for potential clients. In addition, a range of new content offerings were added to its website and blogs that furthered the discussion of key issues facing filmmakers working across many genres and disciplines.
Oakley also solicited the participation of new corporate sponsors to help support its non-profit mission, oversaw an initiative to update its bylaws to reflect rapid changes in technology, media and global business communications, and supervised the creation of a cloud-based archive to store and share the accumulate knowledge base of both the association and its members.
Regarding membership, under Oakley's leadership a number of high-profile member companies were added and recruiting efforts were undertaken to identify potential members in underrepresented regions such as Africa. A new membership category was created to allow some respected associate partners to become full members of IQ. In addition, the association undertook a program to increase the exchange of information and resources between member companies.
Oakley and the IQ leadership team produced a number of well-received global meetings and symposia, held in Sydney, Panama City and Montreal. Its most recent global meeting was held in Reykjavik at the end of 2014.
In his farewell address, Oakley saluted the board and the staff of IQ and cited the contributions made by Executive Director Arabella Hutter as well as various committee members and supporting volunteers. "Like the ancient cave painters of pre-history, we have an opportunity to paint the future with our stories and help our people, communities and nations live and grow into a better tomorrow," he told the audience of members, supporters and guests.
"It is a great challenge and an amazing opportunity," he continued. "I've truly appreciated being given the chance to serve you, and have learned so much over these four years. Now let us proceed to tell the story and create the future, one we'll all be proud to be part of."
Tribe is an award-winning production company that creates emotionally-compelling content to help corporations, non-profits, colleges and universities humanize themselves through the power of film. In business for almost 30 years, the studio has worked for a list of Fortune 500 companies and top academic institutions, earning recognition from leading festivals and competitions around the world for its work. Among its areas of expertise are corporate culture change and human resources, investor relations and CEO communications. In the educational sector, Tribe creates films that speak to students, staff, alumni, contributors and board members.