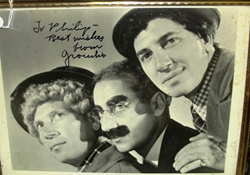 "I have never seen such a large collection of Vintage Memorabilia owned by one collector," says Scott Grasso, President of J. Sugarman Auction Corp. "These pieces could be displayed in any Memorabilia Exhibition Hall or Museum. "
Hallandale, FL (PRWEB) February 26, 2015
J. Sugarman Auction announces the Live and Online Auction of The Largest History, Film and Entertainment Memorabilia of its kind from the Estate of Philip Leon. The auction will be held on Friday, March 6th through Sunday March 8th, 2015.
Philip Leon was an avid collector since the 1950's of all sorts of Celebrity Memorabilia. He was a devoted Film Fan and became friends to many celebrities and stars throughout the years. He collected autographs, dedicated books, posters, playbills, lobby cards, magazines, photographs, promotional items, props and costumes. It also includes Original Scripts and Studio contracts signed by the actors.
Some of the autographed pieces include Boris Karloff, Frank Sinatra, Dean Martin, Vincent Price, Elizabeth Taylor, Lucille Ball, The Three Stooges, Edward G Robinson and many more.
The collection has over 3,000 items valued at well over $250,000.
The Auction will be conducted by J Sugarman Auction Corp and held Live and Online on Friday, March 6th @ 6pm EST at The Show Emporium in Cooper City, FL for Day 1. Day 2, Saturday, March 7th and Day 3, Sunday, March 8th will be only be Online with both days starting at 6pm EST.
"I have never seen such a large collection of Vintage Memorabilia owned by one collector", says Scott Grasso, President of J. Sugarman Auction Corp. "These pieces could be displayed in any Memorabilia Exhibition Hall or Museum. "
Some items Fans will want to get their hands on:
Day 1 - Friday, March 6 (Live and Online)
Lot # 1024 – Batman Autograph Villians Framed Display
Lot # 1075 – Vintage Groetchen IMP Gumball Machine
Lot# 1131- Chuck Connors Hand Signed 8x10 Photo "The Rifleman"
Lot # 1151 – The Three Stooges "Have Rocket, Will Travel" Original 1959 Poster
Lot # 1254 – "Goldfinger" 1964 James Bond 1967 Original 3 Sheet Poster
Day 2- Saturday, March 7 (Online Only)
Lot # 1020 – Denny McLain Signed Sports Illustrated Cover 1968
Lot # 1116 – Anne Robinson hand signed 8x10 Lobby Card "War of Worlds"
Lot # 1166 – "House of Dracula" Autograph Lobby Card
Lot # 1212 – Ronald Reagan Signed 8x10 Photo
Lot # 1288 – Signed Forbiden Planet Movie Poster 1956
Day 3 – Sunday, March 8 (Online Only)
Lot # 1014 – Roy Rogers Autographed color 8x10
Lot # 1021 – Meinhardt Raabe " Wizard of Oz" signed 8x10 photo
Lot # 1183 – Clayton Moore "The Lone Ranger" signed 8x10 photo
Lot # 1228 – Buffalo Bob "Howdy Doody" signed 8x10 photo
Lot # 1347 – "Die Monster Die" Huge Lobby Poster 65-1665
More information and pictures are available at http://www.JaySugarman.com and you may bid directly online via http://www.proxibid.com/sugarman
Contact:
J Sugarman Auction Corp
Scott Grasso scott(at)jaysugarman(dot)com 954.464.3434
Annette Boves Grasso annette(at)jaysugarman(dot)com 954.479.1757