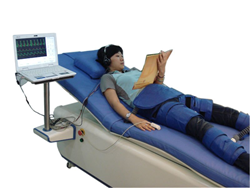 The people of Calgary no longer have to fly to the United States for this form of treatment.
Calgary, AB (PRWEB) February 25, 2015
February is heart month and what better gift to the people of Calgary for helping with heart disease. External Counterpulsation (ECP) therapy has been used for many years all over the world for the treatment for patients with angina and heart failure. The people of Calgary no longer have to fly to the United States for this form of treatment. There are now three heart treatment options for patients with coronary artery disease in Calgary; open heart surgery, heart stent and now ECP.
External Counterpulsation is an excellent option for patients with stable angina, and those patients who are not amenable to a heart stent or bypass surgery, or who have had a failed heart stent or bypass surgery. The big concern after heart surgery is restenosis. Restenosis is the recurrence of abnormal narrowing (atherosclerosis) of an artery after heart stent or bypass surgery. This unfortunately can occur anytime as heart stents and bypass surgery is not a cure. "Coronary artery disease likes to progress and the Heart Fit Clinic fills this gap in our healthcare system " says Diamond Fernandes, the director of the Heart Fit Clinic. This is where ECP can be a better option for patients who are going in for elective surgery or who are presented with symptoms of heart disease.
External Counterpulsation is also given recommendation in the 2013 European Society of Cardiology (ESC) Guidelines on the Management of Stable Coronary Artery Disease (SCAD).
External Counterpulsation increases blood flow to the heart, strengthens the circulation, and offers a proven way to treat heart disease in lieu of stents or bypass surgery. ECP is a high tech procedure where three compressive cuffs (like blood pressure cuffs) that are wrapped around calves, thighs and buttocks. While the patient lies on a bed, these cuffs are inflated sequentially, and deflated synchronously with each heart beat. Patient's ECG, blood pressure, heart rate and oxygen levels are monitored during the course of treatment. Patients usually receive ECP treatment for one hour a day, five days a week for seven weeks. This "milking" action pumps blood upwards towards the heart, where the benefits occur.
The Heart Fit Clinic uses all its resources to help patients prevent and reverse heart disease. They go beyond a "band-aid" approach and focus on everything a patient can do to reverse heart disease that includes, nutrition, exercise and key stress management practices.