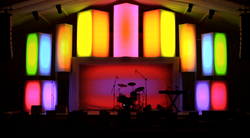 You have to be very precise, and you really have to know where all the eyeballs will be, otherwise the illusion falters.
Chicago, IL. (PRWEB) February 25, 2015
Generally known as the Super Bowl for movie buffs, the Academy Awards—or, as they're more colloquially known, the Oscars—can always be counted on to present a showcase for technical prowess. The jokes might not always land, but the technical side is generally flawless. This was certainly true of the most recent Academy Awards presentation, and Chicagoland-based projection mapping company Chicago Projection Mapping was in a particularly good position to appreciate the new technological wrinkle in this year's awards show. The 2015 Oscars featured a well thought out, video mapping performance during the show's opening skit.
According to the professional experts at Chicago Projection Mapping, the 3D video mapping presented at the Oscars, sometimes called augmented reality or 4D Projection, was of exceptional quality. This is no small praise, as CPM is in a position to appreciate the unique challenges that come with any kind of live display or event. For example, even during the most recent Super Bowl, which also used projection mapping during the halftime show, it was possible to see seams in the presentation when camera angles did not precisely match up with the intent of the show.
"Projection mapping can be really tricky," said Mark Smith, founder and CEO of Chicago Projection Mapping. "You have to be very precise, and you really have to know where all the eyeballs will be, otherwise the illusion falters. I have to say, when I was watching the Oscars, I kept waiting for that—but the choreography and content were very precise. It was really well done." Smith refers to the two audiences for any televised projection mapping: the audience in the auditorium and the audience at home. According to Smith, the difficulty in these events is maintaining the illusion for both audiences.
During this year's Oscars, the illusion was relatively flawless. This means that the projection mapping was able to augment the presentation, rather than distract from it. Chicago Projection Mapping are experts in delivering similar technically in challenging executions, in formats as varied as large scale building mapping, to projection mapping for interactive stage shows and events. In other words, Chicago Projection Mapping knows how difficult that Oscar performance was to pull off because they have had to execute similar, high-level projections. Indeed, a wide variety of venues and clients require those high-levels of success, and it's one of the enduring appeals of projection mapping technology.
Because projection mapping is also an emerging media in its own right, it's important to emphasize the artistry necessary to pull off a quality showing. Chicago Projection Mapping has extensive experience using creativity and talent to build shows that clients remember as show-stoppers and as conversation pieces. This capability—and this experience—puts Chicago Projection Mapping in a unique position to appreciate the craft on display during the Academy Awards. It also puts them in a unique position to offer the same quality, style, and technical prowess on display during the 2015 Academy Awards.
To inquire about Chicago Projection Mapping's considerable set of capabilities in bringing your own vision to life, e. mail Info(at)ChicagoProjectionMapping(dot)com.
Main Office Contact 630-620-0000
Main Web Site http://chicagoprojectionmapping.com
Main 2015 Demo Reel on YouTube
About Chicago Projection Mapping: Based in Chicago, IL, Chicago Projection Mapping is a full service content creation, 3D and 4D video, and iinteractive projection mapping company, serving the entertainment, advertising, corporate, event, meeting, and convention sectors. For more information, please visit http://www.ChicagoProjectionMapping.com, or call 630-620-0000.