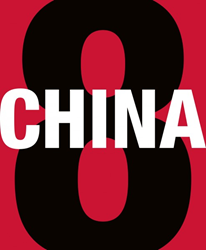 A tapestry of Chinese contemporary art in one of Germany's most fascinating areas
Düsseldorf, Germany (PRWEB) February 25, 2015
Düsseldorf's world-renowned NRW Forum will become the portal to the biggest contemporary art event in Germany, CHINA 8 (May 15 – August 30, 2015), when its exhibit of Chinese artists opens. Also opening will be exhibits by Chinese artists in major art institutions in 7 other big cities in Germany's Rhine Ruhr Region (May 15 – September 13, 2015), creating a tapestry of Chinese contemporary art in one of Germany's most fascinating areas.
CHINA 8 explores the many facets of today's art scene in China, and the pieces by more than 100 established and emerging Chinese artists are grouped by genre in the various cities and venues, as follows: Sculptures at the Duisburg Lehmbruck Museum; art installations and latest artistic trends at the Kunstmuseum in Mülheim/Ruhr; ink paintings and calligraphy at the Kunstmuseum Gelsenkirchen; socially critical painting at the Kunsthalle Recklinghausen; established painting at the MKM Museum Küppersmühle in Duisburg; video at the Skulpturenmuseum Glaskasten Marl; applied art at the Hagen Osthaus Museum; photography at the Essen Museum Folkwang; and last but not least many pieces representing several genres will be shown at the NRW-Forum Düsseldorf.
CHINA 8 is being organized by the Foundation for Art and Culture, Bonn. The exhibition is sponsored by the Brost-Stiftung and Evonik Industries AG. Finnair Plc and Düsseldorf Airport – DUS are exclusive partners of the exhibition.
The Rhine Ruhr Region hosted another major contemporary art event in 2010, when it was chosen as the "European City of Culture," and the multi-city-spanning event was similar in structure and a huge success.
For further information on the exhibition, please visit: http://www.china8.de.
Düsseldorf's tourism office is offering hotel and city specials for stays in 2015. The package, called "Düsseldorf à la Card," can be booked right from the tourism office's website at https://www.duesseldorf-tourismus.de/en/accommodation/hotel-packages/duesseldorf-a-la-card/. Prices start at €49 per night per person based on double-occupancy for a 2-3-star hotel in the city center and at €95 per person for a 4-star hotel. The package includes breakfast, one DüsseldorfCard (free public transportation within city limits plus 30 free or reduced admissions to city attractions), and a city information package. Please check the website for current information.
# # #
Düsseldorf Marketing & Tourism GmbH is the visitors and convention bureau of the city of Düsseldorf. Its responsibilities include tourism and city marketing, as well as conference and meeting marketing, hotel reservation services, fairs and convention services, city event ticket sales and advance ticket reservations. For more information, visit http://www.visitduesseldorf.de.
Düsseldorf Airport, Germany's Next Generation HubTM, offers several non-stop flights from US & Canadian cities (Atlanta, Chicago, Ft. Myers, Los Angeles, Miami, New York, Newark), as well as convenient connections to many European cities. For more information about the airport, visit http://www.dus.com.