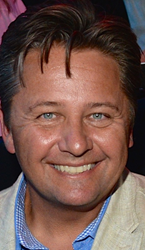 NASHVILLE, TN (PRWEB) February 26, 2015
Fishbowl Spirits, LLC, today announced that David Farmer has been appointed as President, effective immediately. Wholly owned by multiplatinum singer-songwriter Kenny Chesney, Fishbowl Spirits is the entity through which Chesney created and produces Blue Chair Bay Rum. In this newly-created position, Farmer will be responsible for overseeing all aspects of Fishbowl Spirits' operations and will report to Chesney, Fishbowl Spirits' Chairman.
Continuing to serve as Chesney's Tour Manager, coordinating over 100 employees on tours that have made Chesney the biggest ticket-seller of the 21st Century, Farmer has spent 18 years establishing a live franchise that reinforces the 8-time Entertainer of the Year's commitment to quality, fun and giving people a concert experience they will never forget. Farmer will manage and further integrate the Fishbowl Spirits team as Blue Chair Bay Rum hits the road this spring as one of the sponsors of Chesney's Big Revival Tour.
Chesney is the only country act in Billboard's Top 10 Live Acts of the last 25 years, a significant achievement in which Farmer has played a large part. "Kenny understands how to create not just an incredible show, but a real connection with his fans," says Farmer. "My goal is to harness that energy and translate that excitement into the Blue Chair Bay brand."
Named Country Music Association's Tour Manager of the Year in 2012, Farmer is also a long-standing member of the Business Hall of Fame at East Tennessee State University, where he and Chesney were friends and roommates. The former banking executive gave up a successful career to help his friend achieve the dream of a lifetime; now they begin again.
"I've known David since we were kids playing football on the street. No one knows me and the things I stand for better than David. His business abilities have helped me take my music from bars to football stadiums. He will bring the same passion, management skills and attention to detail to Blue Chair Bay Rum," said Chesney.
About Blue Chair Bay Rum
Blue Chair Bay Rum, inspired by multiplatinum singer-songwriter Kenny Chesney's love of the island lifestyle, was created on the shores of the Caribbean. The five varieties, White, Coconut, Coconut Spiced, Banana and Coconut Spiced Rum Cream, are made at one of the oldest, most respected distilleries in the Caribbean. Blue Chair Bay Rum is available in 750ml and 1.75L bottles, imported from Barbados and bottled by Fishbowl Spirits, Rochester, NY. Blue Chair Bay White Rum 40% ABV, Blue Chair Bay Coconut, Coconut Spiced and Banana Rum, 26.5% ABV, Blue Chair Bay Coconut Spiced Rum Cream 15% ABV. Please enjoy Blue Chair Bay Rum responsibly. http://www.bluechairbayrum.com
Media Contact:
John LeRoy
For Blue Chair Bay Rum
jleroy(at)360pr(dot)com
617-585-5791