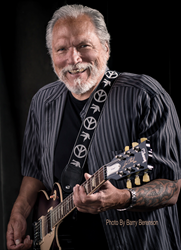 "A master in situ, unfurling melodies and savoring every note" – Rolling Stone
Pomeroy, Ohio (PRWEB) February 27, 2015
Jorma Kaukonen's solo release on Red House Records is sweeping the country with good vibes. From his tour's first five sold out shows to the reviews and radio play Jorma's audiences are listening and enjoying "Ain't In No Hurry" (Red House CD 282). The Huffington Post says Jorma is a "gentle soul with the magic fingerpicking hands." (http://www.JormaKaukonen.com)
"The new songs Kaukonen's written for "Ain't in No Hurry" reflect that [Acoustic] music, in their melodies and sentiments, and the delicate, expressive picking that goes with them, and also the point in life he's reached without maudlin nostalgia... This is no "Geriatric Journey." The background in that old time, direct roots music he loves seems to be what's supported and sustained his musical creativity and buttressed his career's longevity." – Barry Mazor, Cuepoint
Read full article: https://medium.com/cuepoint/jorma-kaukonen-still-working-the-roots-f53ea3954bc6
"It is Kaukonen's original material that best tells the story." – Forbes
In a career that has already spanned a half-century, Jorma Kaukonen is one of the most highly respected interpreters of American roots, blues and early country music. A member of the Rock & Roll Hall of Fame, he is a founding member of two legendary bands, Jefferson Airplane and the still-touring Hot Tuna. Jorma Kaukonen's repertoire goes far beyond psychedelic rock; he is a guitar legend and a fine singer-songwriter.
"Jorma Kaukonen is a force in American music, equally adept at fingerpicked acoustic folk and blues as he is at wailing on an electric." – Acoustic Guitar
"Sparkling acoustic textures dominate…In the intricate and intimate style that pervades this album" – Glide
"Clearly not content on resting on any of his legendary laurels, Jorma Kaukoenen continues to find ways to wed his muse to the right material and create a colorful tableau." – Relix
Jorma currently, as he has for many years, tours the world bringing his unique sound to audiences of all ages.
Feb 28 City Winery, Nashville, TN
Mar 01 Melting Point, Athens, GA
Mar 03 The Grey Eagle, Asheville, NC
Mar 05 Tally Ho Theatre, Leesburg, VA
Mar 06 Colonial Theatre, Phoenixville, PA
Mar 07 South Orange Performing Arts, South Orange, NJ
Mar 08 Newton Theatre, Newton, NJ
Mar 12 Narrow Center for the Arts, Fall River, MA
Mar 13 Infinity Hall, Hartford, CT
Mar 14 Stage One, Fairfield, CT
Mar 15 Boulton Center for the Arts, Bayshore, NY
Mar 17 Lucky Lounge, SXSW, Austin, TX
Mar 18 SXSW Jim Marshall: All Access Photo Pass, Austin, TX
Mar 20 - 23 Double Dose Specialty, Fur Peace Ranch, Pomeroy, OH
Mar 27 - 30 Entrance Ramp, Fur Peace Ranch
Apr 02 Mountain Ridge Country Club, West Caldwel, NJ
Apr 08 City Winery, Chicago, IL
Apr 09 City Winery, Chicago, IL
Apr 11 Dakota Jazz Club and Restaurant
Apr 12 Stoughton Opera House, Stoughton, WI
Apr 16 Wanee Festival, Live Oak, FL
Apr 17 Variety Playhouse, Atlanta, GA
Apr 18 Carolina Theatre of Durham, Durham, NC
Apr 24 - 27 Songs From Blue Country Heart Fur Peace Ranch
Apr 25 Fur Peace StationGuitar Summit: David Lindley & GE Smith
May 08 – 11 Electric Jorma, Fur Peace Ranch
May 14 Merriweather Post Pavilion, Columbia, MD
May 15 The Bull Run Concert Series, Shirley, MA
May 16 Towne Crier, Beacon, NY
May 22 – 25 The Fundamental Hot Tuna Songbook, Fur Peace Ranch
June 19 Mamiya Theatre, Honolulu, HI
June 20 Kauai Community College, Kauai, HI
June 21 Mill House at Maui Tropical Plantation, Maui, HI
June 26 Palace Theater, Hilo, HI
June 27 People's Theatre, Honoka'a, HI
June 28 Hawaiian Brian's, Honolulu, HI
Follow Jorma's Escapdes:
Twitter: @JormaKaukonen
Twitter: @HotTunaBand
Facebook: https://www.facebook.com/groups/JormaKaukonen/
For more information and interview requests please contact Cash Edwards, Music Services, http://www.CashEdwards.com