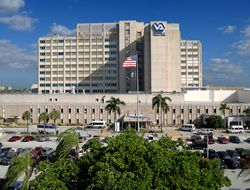 MIAMI (PRWEB) February 25, 2015
Veterans and their family members in South Florida are invited to a Miami VA Healthcare System Veteran Town Hall meeting designed to answer questions about VA services and solicit suggestions from Veterans.
The meeting is scheduled for March 5 at 3 p.m. in the Bruce W. Carter VA Medical Center at 1201 N.W. 16th St., Miami, FL 33125. These meetings are open to the public, and congressional staffs, Veteran Service Organizations, Non-Governmental Organizations and other community partners are encouraged to attend as well.
These meetings are held quarterly throughout the three-county region (Miami-Dade, Broward and Monroe) that the Miami VA Healthcare System serves to improve communication with, and hear directly from, Veterans nationwide as a step toward improvement and to rebuild trust among Veterans.
The Miami VA Healthcare System serves nearly 58,000 Veterans in Broward, Miami-Dade and Monroe Counties.
Who: Miami VA Healthcare System
What: Veteran Town Hall Meetings
When and Where:
March 5, 3 p.m. at the Bruce W. Carter VA Medical Center
1201 N.W. 16th St., Miami, FL 33125