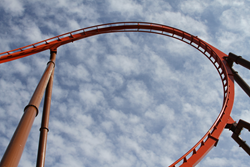 A wing coaster creates the feeling of incredible freedom
Santa Claus, Indiana (PRWEB) February 25, 2015
In two months, America's first launched wing roller coaster will premiere at Holiday World Theme Park.
Named Thunderbird, Holiday World's new roller coaster will feature a zero-to-60 miles-per-hour launch in 3.5 seconds, followed by multiple inversions - including a 14-story Immelmann loop, Zero-g roll, barrel roll, and a loop soaring 125 feet in the air.
Continuing Holiday World's tradition of sending roller coasters through its thickly wooded and hilly terrain, Thunderbird will at first soar and loop high in the air and then hug the ground, surprising riders with rapid-fire "near misses" such as keyholes, themed elements, other rides, trees, and even the ground.
"A wing coaster creates the feeling of incredible freedom – you ride beside the coaster track with nothing above or below you," says Holiday World's president, Matt Eckert. "Thunderbird is the first launched wing coaster in the nation – we can't wait to ride it!"
Eckert calls Thunderbird's manufacturer, Bolliger & Mabillard, the "Cadillac of roller coasters, known for their safety, quality and reliability. We've dreamed of adding a B&M steel coaster for many years and are excited that Thunderbird will be B&M's first launched coaster."
Thunderbird's $22 million price tag is more than twice the amount of any other single-ride investment at Holiday World & Splashin' Safari in the park's 69-year history.
In addition to Thunderbird, Holiday World has three highly ranked wooden roller coasters, The Voyage, The Legend and The Raven. The world's two longest water coasters - Mammoth and Wildebeest - are part of Holiday World's water park, Splashin' Safari.
Holiday World opens for the season on April 25, with the premiere of Thunderbird. Splashin' Safari opens for the season on May 13. The single-admission theme park complex includes such family-friendly perks as complimentary soft drinks and sunscreen, plus no charge for parking, Wi-Fi and use of inner tubes. For more information, visit HolidayWorld.com