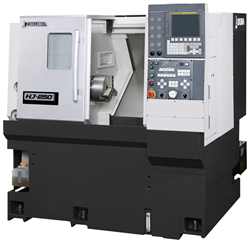 Charlotte, NC (PRWEB) February 25, 2015
Okuma introduces its new HJ-250E horizontal CNC lathe. This machine offers many of the advantages of the company's GENOS lathe series with a FANUC control, providing an affordable, entry-level lathe with exceptional flexibility.
Built on a one-piece, cast iron base with a horizontal way system and hand-scraped headstock and tailstock mounting surfaces, this machine provides stability, rigidity and accuracy for a variety of applications. A gearless spindle reduces vibration and heat, minimizing thermal deformation for maximum productivity.
Key Features of Okuma's HJ-250E Horizontal CNC Lathe

Max Turning Diameter, mm (in), Ø280 (Ø 11.02)
Spindle Nose Type, A2-6
Speed Range, min⁻¹, 30~4,500
Power 30 min, kW (hp), 11 (10)
Power cont., kW (hp), 7.5 (15)
Rapid Traverse (X/Z), m (in)/min, 20/25 (787/984)
Standard 8" Chuck
For more information on Okuma's HJ-250E visit http://www.okuma.com/hj-250e-horizontal-lathe.
About Okuma America Corporation
Okuma America Corporation is the U.S.-based sales and service affiliate of Okuma Corporation, a world leader in CNC (computer numeric control) machine tools, founded in 1898 in Nagoya, Japan. The company is the industry's only single-source provider, with the CNC machine, drive, motors, encoders, spindle and CNC control all manufactured by Okuma. Okuma's innovative and reliable technology, paired with comprehensive, localized service protection, allows users to run continuously with confidence – maximizing profitability. Along with its industry-leading distribution network (largest in the Americas), and Partners in THINC, Okuma facilitates quality, productivity and efficiency, empowering the customer and enabling competitive advantage in today's demanding manufacturing environment. For more information, visit http://www.okuma.com or follow us on Facebook or Twitter @OkumaAmerica.
About Partners in THINC
Partners in THINC is a collaboration network of more than 40 industry leaders who come together to solve problems and explore new productivity ideas for real-world manufacturers. With the open architecture, PC-based THINC®-OSP control as its nucleus, Partners in THINC brings specialized equipment, expertise and a commitment to provide the best possible integrated solutions to the end-user. For more information, visit http://www.okuma.com/partners-in-thinc.
###