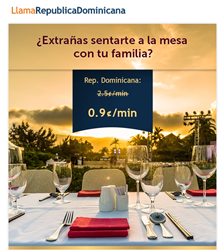 Un servicio óptimo, seguro y rápido. Buena tarifas y de fácil acceso. (Mario A. Cortes Acosta on Trustpilot)
Atlanta, Georgia (PRWEB) February 27, 2015
Good news for all Dominicans worldwide! On Independence Day anyone holding a free account on LlamaRepublicaDominicana.com can save 64% on international calls to landlines in Republica Dominicana. The new promotional rate on February 27th is 0.9 ¢/minute instead of the regular 2.5 ¢/minute.
One needs to meet 2 conditions to benefit from the 0.9¢/minute promotional rate:

Making international calls through the Voice Credit prepaid product is the most efficient solution to call Republica Dominicana. No matter the distance, the rate stays the same; it only varies from mobile to landline. During the Independence Day promotion on February 27th, the rate to call landlines is 0.9 ¢/minute, while calling a mobile is 7.9 ¢/minute. Outside the promotion, it costs 2.5 ¢/minute to call landlines and 7.9 ¢/minute to call cell phones.
The Voice Credit for international calls never expires, which is for many a great advantage of LlamaRepublicaDominicana.com. The calling credit rolls from one month to another without any expiration date. In consequence, the calling balance can be used whenever necessary, without any time boundary or any other extra fees.
There are 3 ways to call using Voice Credit from LlamaRepublicaDominicana.com.

From a smartphone to any landlines/mobile, using KeepCalling app for Android or iOS; Internet access needed
From any mobile / pay-phone / landline, using local or toll free access numbers
From PC to phone, using the Web Call desktop app available in the online account on LlamaRepublicaDominicana.com; no download needed.
Free features were created as a result of customer feedback. They can be found in the online account on LlamaRepublicaDominicana.com and make the website a popular one among Dominican expats. PINless helps skip entering the PIN. Speed Dial helps customers make a call by pressing one digit only, since a name can be assigned to a phone digit. Voice Prompts and Auto Recharge are other features on LlamaRepublicaDominicana.com, that customers find useful, especially since they were created as a result of customer feedback.
In addition to Voice Credit, LlamaRepublicaDominicana.com offers Mobile Recharges and Virtual Numbers. Mobile Recharge is a service that facilitates 1 minute mobile top up that anyone can send to Republica Dominicana. More specifically, by ordering Mobile Recharge one can send airtime to any prepaid number pertaining to networks like: Viva, Orange, Claro, Tricom and Moun. The process is fast and secure and the credit reaches its destination instantly.
Virtual Number is a number, say, in Dominican Republic that one uses in the USA. This way friends and family in Dominican Republic can call him/her in the USA and pay for a local call. Dominican Republic is not the only country one can get a Virtual Number for.
Why hundreds of thousands of customers stay with LlamaRepublicaDominicana.com:

Lowest rates on the market for Dominican Republic and other destinations
Credit can be used anytime to call more than one international destination
No hidden fees
High security system; the website is labeled as "Verified & Secured"
100% privacy protection; TRUSTe certified website
24/7 prompt Customer Support in Spanish and English
Friendly customer care; the service is certified by BBB
Easy navigation and purchase from smartphone, PC and tablet
Paypal accepted besides all major cards, no matter the currency of the bank account
Invoices and history available in the account at any time without additional costs
Regular promotions sent by email if subscribed to "Get offers" (button down the page)
Best deals on international Mobile Recharges and instant mobile load
Comprehensive Help Center (FAQ)
KeepCalling free app for direct phone-to-phone international calls from iOS or Android
Website in both English and Spanish
About LlamaRepublicaDominicana.com
LlamaRepublicaDominicana.com is an interactive website designed by KeepCalling, a global telecommunications company registered in 2002 in USA. Presently, KeepCalling, whose brand LlamaRepublicaDominicana.com is, provides its services to hundreds of thousands of consumers and businesses, with a focus on customer feedback and customer satisfaction. KeepCalling has been listed by Inc 5000 in the top 20 telecom companies in the USA for the last 4 years. Plus, in 2014 the company was designated the 18th fastest growing company in the telecommunications industry in the USA with a revenue increase of over 600% from 2010 to 2013.