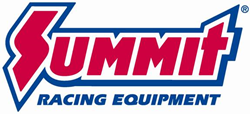 Tallmadge, OH (PRWEB) February 26, 2015
Season Two of the Discovery Channel's hit show Fat N' Furious: Rolling Thunder began airing this past January. Now, fans of the show can see the parts used on the show's projects thanks to the Summit Racing Fat N' Furious Parts Combos.
Fat N' Furious: Rolling Thunder follows the exploits of Tommy Christmas, owner of the Youngstown, Ohio-based Christmas Automotive. He and his team of large-and-in-charge gearheads resurrect old cars, transforming them into stunning street machines. These Fat N' Furious Season Two Parts Combos are now available at SummitRacing.com:
1969 Ford Fairlane
Tommy Christmas dropped in a legendary 428 Cobra Jet big block in the Fairlane's rolling shell. Parts from Hughes Performance, Be Cool, Doug's Headers, MSD, and Painless Performance were used to transform the ho-hum Ford sedan into a fire-breathing street pounder.
1968 Pontiac Firebird
The Fat N' Furious crew gave this first-gen Firebird a serious performance makeover, including a new BluePrint Engines crate engine, a TCI transmission, Right Stuff Detailing brake system parts, and a custom exhaust built with Flowmaster and Patriot Performance components.
Altered Dragster
Upon graduating from the Jr. Dragster ranks, Sarah Gruber found herself in need of a new ride. Fortunately, Tommy Christmas fixed up an old altered T-bucket for her. The Fat N' Furious team added a BluePrint Engines crate engine making close to 500 horsepower. Other parts used to transform the old race car came from Moroso, Meziere, ATI, JW Performance, and Russell.
1964 Chevy II
When replacing the thrashed Hilborn-injected mill in the "Mind Bender" Chevy II, the Fat N' Furious guys decided to make the switch to alcohol. They used parts from Trick Flow, Dart, Dynatech, RAM, and ARP.
1969 Mustang Boss 302
A Boss 302 is an incredible machine, but the ponycar's owner wanted to make it even more potent so he could beat his son's 2012 Boss. The Christmas Automotive team summarily crammed a 500 horsepower Ford Racing crate engine under the hood. The build also included upgrades to the brakes, suspension, and cooling systems with parts from Griffin, Hotchkiss, and Wilwood.
1969 AMC SC/Rambler
After 20 years, the owner of SC/Rambler wanted to return it to its former glory. The Fat N' Furious crew rebuilt the AMC 390 engine with parts from Edelbrock and Holley, and completely overhauled the plumbing, ignition, and brake systems. The project was capped with a brand new set of Cragar SS wheels and M&H Racemaster tires.
New episodes of Fat N' Furious: Rolling Thunder will Monday nights in March on the Discovery Channel. New combos will be introduced after each episode airs.
Learn more about Fat N' Furious: Rolling Thunder on the Discovery Channel.
Summit Racing Equipment
http://www.SummitRacing.com
1-800-230-3030