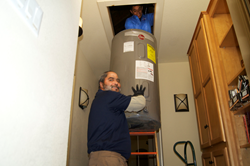 A large percentage of Austin homes have water heaters in their attic. The standard attic access is 21 1/2" wide. The new water heaters are going to be about 2" larger than that. That means home owners will have additional expenses of remodel
Austin, Texas (PRWEB) February 27, 2015
The new DOE federal regulations going into effect on April 15 will increase the size of all conventional water heaters, making them too large to fit though standard attic access and some closets built for existing water heaters. Once the new regulations for water heater efficiency go into effect, manufacturers will stop producing current models. All that will be offered are upgraded devices. Consumers won't be able to find a direct replacement to install if it breaks down. Typically, the new water heater models will cost up to 35% more and will be 2" wider and taller (due to having more extensive insulation).
Brad Casebier from Radiant Plumbing and Air Conditioning says, "A large percentage of Austin homes have water heaters in the attic. The standard attic access is 21 1/2" wide. The new water heaters are going to be about 2" larger than that. This means that home owners will have the additional expenses of sheet rock repair, and even possible carpentry."
Plumbing experts (Brad included) suggest replacing older water heaters before the deadline, that way consumers can make sure the replacement fits both home and budget. Consumers that have an older machine or are noticing the warning signs of wear and tear, should consider investing in a replacement today!
Some signs that a water heater is in disrepair include: leaks, bad odors, visible rust, higher energy bills, dirty water, and poor heating. If the water heater is past 5 years old, consider this action sooner rather than later. Check to see the age of the water heater in question, then call the local plumbing professionals at Radiant Plumbing & Air Conditioning http://www.RadiantPlumbing.com for a replacement estimate today. If unsure of the age of your unit, a specialist would be happy to come out to verify the age and condition.