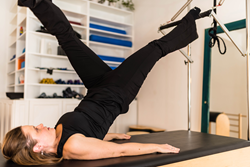 Budapest, Hungary (PRWEB UK) 27 February 2015
PilatesinBudapest.com is pleased to announce the opening of its fully-equipped Pilates studio in the heart of Budapest's District V. The studio is situated in a prime location, 5 Szervita ter, with easy access from both Deak ter and Ferenciek Tere metro stations. The studio is open Monday to Friday, offering private and semi-private equipment classes as well as mat classes for small groups. The language of tuition is English.
The studio is run by Anita Forjan, an experienced Pilates teacher with several years of experience and two Pilates diplomas under her belt. Anita has been doing Pilates for over a decade. A ballet injury introduced her to the BASI Pilates Method. She earned her first Pilates degree with Elena Graziadei (COVA), completing a classical Pilates teacher training course in 2007. After moving to England, she successfully completed a BASI comprehensive teacher training course held by Amit Younger in London. She used to run her own studio in Hasting, East Sussex, and also worked with Amit in his London studio at Clapham.
Anita has first-hand experience doing Pilates during pregnancy and after birth, and regularly trains healthy, expecting mothers who want to stay fit and active during pregnancy. She also has years of experience teaching Pilates for the elderly and as part of a rehabilitation regime following injuries or surgery. Additionally, Anita also holds two Master's degrees, one in English and one in Russian Literature. She has over 15 years of teaching experience that serves as an asset in her Pilates classes.
Pilates in Budapest is the only studio in town offering Pilates classes in English. As Anita lived in the UK for over 5 years, she is fully proficient in teaching Pilates to an international audience. Her time in Hastings enabled her to completely understand the needs of various age-groups and she learnt to handle varying levels of physical abilities. Under Amit's mentorship, she also developed her methodology to tailor the training regime to the individual needs and abilities of each person, offering a personal Pilates development programme to each of her clients.