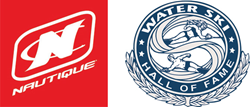 "Nautique is proud to support the Water Ski Hall of Fame, honoring the rich history of this amazing sport. For the past 90 years Nautique has had the privilege to be a part of many of waterskiing's most defining moments
Polk City, FL (PRWEB) February 25, 2015
The USA Water Ski Foundation (USA-WSF) welcomes Nautique Boats as the title sponsor of the 2015 Water Ski Hall of Fame Induction Ceremony being held Saturday, April 18th at Fantasy of Flight in Polk City, Florida.
Tickets for the Nautique USA-WSF Water Ski Hall of Fame are available online at http://www.usawaterskifoundation.org/#!2015-water-ski-hall-of-fame/cwk2
"Nautique is proud to support the Water Ski Hall of Fame, honoring the rich history of this amazing sport. For the past 90 years Nautique has had the privilege to be a part of many of waterskiing's most defining moments and work with the talented and dedicated people that have brought the sport to where it is today, " stated Nautique's President/CEO Bill Yeargin. "As we continue to grow this great sport, we cherish the groundwork laid by the passionate people that have come before us and continue to work alongside those that will carry the torch for years to come," Yeargin added.
The 2015 Hall of Fame Class is comprised of inductees Bill Bowness, Kim Laskoff, Jennifer Leachman Lapoint and Jeff Rodgers. Award of Distinction Recipients include Hal Hamilton, Frank Harrison, Michael Morgan, Chet Raley and Gary Warren. The 2015 Hall of Fame Special Lifetime Tribute will honor the life of Howard "Bo" Callaway.
The Hall of Fame induction ceremony is made compelling every year because of the stories and backgrounds of the amazing athletes, officials, pioneers and innovators of the sport. USA Water Ski Foundation President Paul Chapin says the Nautique brand aligns well with USA-WSF vision to enhance lives and communities in the United States through the values of the sport of water skiing and all towed water sports- while showcasing our history and celebrating our heroes.
"The history of American water skiing and wakeboarding is interwoven with the achievements of Nautique athletes and executives, starting with the great Walt C. Meloon, founder of Correct Craft, Inc. and an Award of Distinction member of the Hall of Fame class of 1994," said Chapin. "Nautique's support of the 2015 induction ceremony is a testament to the company's respect for the heritage of all towed water sports. Their commitment will help shine a brighter spotlight on the great heroes of our sport that inspire future generations."