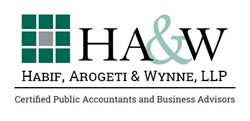 Atlanta, Georgia (PRWEB) February 26, 2015
Habif, Arogeti & Wynne, LLP (HA&W), the largest Georgia-headquartered tax, accounting and business advisory firm, announced today that the firm is now accepting bitcoins as payment for services.
HA&W is one of the first accounting firms in the U.S. to accept bitcoin payments from clients. A bitcoin is a form of digital currency, also known as cryptocurrency, where the value of each bitcoin is determined by supply and demand. Though a fairly new payment method, the use of bitcoin is expanding rapidly around the globe. In fact, today, bitcoin boosts a growing awareness, with 25 percent of consumers across all generations planning to try using bitcoins for payment. Currently, the digital currency has an estimated market value of $3 billion, with millions of dollars traded in bitcoin each day.
"In 1998, HA&W was a pioneer in the accounting industry, through becoming the first paperless CPA firm in the nation," said Richard Kopelman, CEO and managing partner at HA&W. "Today, we are once again leading the accounting industry by accepting bitcoin payments.
By partnering with HA&W client BitPay, the world's leading bitcoin payment processor, HA&W is expanding payment options for clients and providing greater flexibility to meet clients' payment needs.
In addition to accepting bitcoins for payment, HA&W specializes in providing compliance, tax and information technology risk management services to companies who process cryptocurrencies. HA&W has worked with digital payment processing companies to develop the proper controls and apply FinTech best practices, such as ensuring the integrity of transactions, understanding the varying tax treatments for digital currencies around the globe and implementing comprehensive IT risk management controls.
"HA&W understands the importance of digital currency to business today and in the future. We are committed to staying on top of this fast-growth industry and have a dedicated team of digital currency experts focused on the tax, accounting and information technology risk management best practices for this industry sector," said Mitchell Kopelman, partner-in-charge of HA&W's Technology & Biosciences group. "Our acceptance of bitcoin payments shows our commitment to this space and the success of this new technology."
To learn more about HA&W's expertise working with digital currency and transaction processing companies, contact Mitchell Kopelman at mitchell.kopelman(at)hawcpa.com or 404-898-8231.
About Habif, Arogeti & Wynne, LLP (HA&W):
HA&W has been recognized as a "Best of the Best Accounting Firm" in the United States. Since 1952, clients throughout the U.S. and in more than 40 countries have counted on HA&W to build value, manage risk and drive growth. As the largest tax, audit and business advisory firm headquartered in Georgia, our expertise across a broad range of services and industries provides clients with winning financial practices and insights to help them grow at every stage of their business lifecycle.
To learn more about HA&W, visit http://www.hawcpa.com.