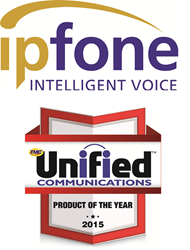 "It is very encouraging to see an increasing number of customers adopting these valuable business tools to help their business be more productive and competitive" says Damian Chmielewski
North Miami, FL (PRWEB) February 25, 2015
IPFone announced today that TMC, a global, integrated media company helping clients build communities in print, in person and online, has named IPFone UC as a 2015 Unified Communications Product of the Year Award winner.
IPFone Unified Communications (UC) is the integration of communication services such as voice and video telephony, chat, presence and location information and desktop sharing in a cloud based application accessible on any PC/MAC and mobile devices (IOS and Android). IPFone UC enables businesses and employees to work together to collaborate from anywhere at any time.
"We are incredibly honored to receive the 2015 Unified Communications Product of the Year Award from TMC" says Damian Chmielewski, IPFone's President & CEO. "It is very encouraging to see an increasing number of customers adopting these valuable business tools to help their business be more productive and competitive".
"It gives me great pleasure to honor IPFone as a 2015 recipient of TMC's Unified Communications Product of the Year Award for their innovative product, IPFone UC" said Rich Tehrani, CEO, TMC. "Our judges were very impressed with the ingenuity and excellence displayed by IPFone in their groundbreaking work on IPFone UC."
Winners of the 2015 Unified Communications Product of the Year Award will be published in the March 2015 edition of INTERNET TELEPHONY magazine.
About IPFone
IPFone is a leading provider of Voice, Internet and Cloud Services for Business. IPFone boasts 18 years in business with more than 1,700 corporate accounts with deployments worldwide. The IPFone team dedicated to one goal and that is to be there for our customers resulting in exceptional customer experience. IPFone's solution is powered by BroadSoft, the world's leading developer of VoIP applications software along with Polycom and Cisco, the world's top manufactures of IP telephony products. To learn more about IPFone, visit us @ http://www.ipfone.com.
About INTERNET TELEPHONY magazine
INTERNET TELEPHONY has been the IP Communications Authority since 1998™. Beginning with the first issue, INTERNET TELEPHONY magazine has been providing unbiased views of the complicated converged communications space. For more information, please visit http://www.itmag.com. Follow INTERNET TELEPHONY magazine on Twitter or join our Linked In group. Subscribe or visit http://www.itmag.com.
About TMC
TMC is a global, integrated media company that supports clients' goals by building communities in print, online, and face to face. TMC publishes multiple magazines including Cloud Computing, IoT Evolution, Customer, and Internet Telephony. TMCnet is the leading source of news and articles for the communications and technology industries, and is read by as many as 1.5 million unique visitors monthly. TMC produces a variety of trade events, including ITEXPO, the world's leading business technology event, as well as industry events: Asterisk World; AstriCon; ChannelVision (CVx) Expo; Customer Experience (CX) Hot Trends Symposium; DevCon5 - HTML5 & Mobile App Developer Conference; IoT Evolution Conference & Expo; SmartVoice Conference; Software Telco Congress; Super Wi-Fi Summit - The Global Spectrum Sharing and TV White Space Event; SIP Trunking, Unified Communications & WebRTC Seminars; Wearable Tech Conference & Expo; Fitness and Sports Wearable Technology (FAST) Expo, WebRTC Conference & Expo; and more. Visit TMC Events for additional information.
IPFone Contact:
Elizabeth Jorges
Marketing Department
305-573-5300 x1118
TMC Contact:
Rebecca Conyngham
Marketing Manager
203-852-6800, ext. 287