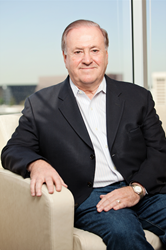 "We appreciate Tom's incredible investment and years of service in the fundraising and nonprofit landscape." - Trent Ricker, Pursuant CEO
Dallas, TX (PRWEB) February 26, 2015
Tom McCabe, Senior Executive counsel and Board Member at Pursuant, a full-service fundraising agency dedicated to helping the world's leading nonprofit organizations, is honored with the Professional Service Award by the National Religious Broadcasters Association at the organization's national convention on February 23 in Nashville, TN.
The NRB Media Awards program is designed to encourage excellence in professional service to the community, faithfulness to the mission, commitment to the Gospel, and personal integrity. There are seven areas of focus for the 2015 awards: Church Media, Intercollegiate, International, Internet, Radio, Television, and Special Service.
"We are so pleased to hear Tom received the Professional Service Award," said Pursuant CEO Trent Ricker. "We appreciate Tom's incredible investment and years of service in the fundraising and nonprofit landscape. We celebrate this deserved honor with Tom today."
McCabe is a 30-year veteran in direct response marketing and communications consulting. In 1984, Tom co-founded KMA by merging his Washington, D.C.-based International Marketing Group (IMG), with Development Resources Inc. of Dallas. In 2010 Tom merged KMA with Pursuant. Through the years, he has counseled many nonprofits across America and the U.K., including such organizations as World Vision, The Salvation Army, Alliance Defending Freedom (formerly Alliance Defense Fund), The Heritage Foundation, American Bible Society, The Arthritis Foundation, The George W. Bush Presidential Center, Moody, Insight for Living, and Wycliffe Bible Translators, among others.
A member of the Council for National Policy, Tom also serves on the boards of the National Religious Broadcasters, Prison Fellowship International, Online for Life, and Pursuant. He is a frequent speaker at fundraising and development conferences, and has written and edited a book on fundraising philosophy and practices, "Inside Outreach: A Guide to Financing Outreach Organizations."
"I'm grateful to the NRB for this honor," said McCabe. "My life's work is contributing to organizations that make a real difference in the lives of people across the nation and the world."
With Tom's wise leadership, infectious passion, and generous humor, he is one of Pursuant's greatest assets. "Tom has meant so much to this industry," said Curt Swindoll, Executive Vice President for Strategy at Pursuant. "He has left a legacy that many of us could only dream of achieving. We're better fundraisers and are better equipped to handle the future because of the foundation Tom helped to create."
The annual NRB International Christian Media Convention is the largest nationally and internationally recognized event dedicated solely to assist those in the field of Christian communications. The dynamic Exposition consists of around 200 companies and is an active marketplace for those seeking tools and services to expand their organizations. NRB 2015 will be held at the Gaylord Opryland Resort and Convention Center in Nashville, TN, February 23-26, 2015. For more information, go to http://www.nrbconvention.org.
The Pursuant Group (http://www.pursuant.com), based in Dallas, Texas, is a technology-driven, comprehensive fundraising consultancy serving the world's leading nonprofit organizations across the entire donor pyramid. Since 2001, Pursuant has helped thousands of organizations raise billions of dollars. Pursuant partners with health and human service organizations, educational institutions, athletic programs, hospitals, faith-based organizations, and churches to impact lives through intelligent data, proven strategies, and award-winning creative to grow and sustain revenue. For more information, visit http://www.pursuant.com