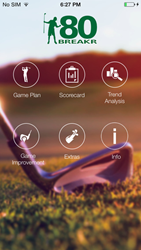 (PRWEB) February 26, 2015
A new golf app called 80breakr from Koerve, Inc. serves as a scorecard with an impressive list of additional features and a unique approach to improving one's golf game. The yearly subscription cost is $4.99 for a limited time on the iTunes App Store.
Unique features include:

Voice-activated score entry
A link to USGA handicap service
A complete game planning section
A shot-by-shot characterization of one's golf game
A post-play analysis of those rounds
Scorecard sharing via Facebook, Twitter, and email
Toggle between match and stroke play competitions
Game improvement record-keeping for achieving personal scoring goals
Automatic course handicap calculation and real-time scoring
Since game planning is crucial - even to professional golfers - 80breakr includes a planning module where players can add reminders, plan scores, and budget types of shots needed to break personal scoring goals. This feature serves as an electronic caddy of sorts.
The game improvement module is closely integrated with the scorecard. The user can toggle quickly between the scorecard and game improvement screens, capturing all the unique statistics of his or her round, as well as characterizing each shot for later analysis. This unique feature allows the golfer to tackle areas of his or her game that need the most improvement.
Up to four players can be added to the scorecard. At every hole, a tap brings up a 12-number keypad for quick score entry. Players can also enter scores with their voice, a feature exclusive to 80breakr. As is done on the PGA tour website, scores per hole are color-coded. Birdies or better have a background color in shades of blue; bogeys or worse have a background color in shades of orange; par shots are uncolored.
Users can view Stroke Play, Match Play, or No Competition versions of the scorecard at any time during a game. The app automatically calculates and implements the course handicap and indicates under each player's name who is winning and who is losing, by what margin, in real time throughout the match.
80breakr includes golf course details for almost 30,000 golf courses worldwide with more added monthly. One can also add any courses not already programmed in the app.
The 80breakr golf app was designed to work with an iPhone, and works equally well with an iPod Touch 5th generation. This design ensures the app can be used even without data plans, and allows for a dedicated device to become part of a golfer's standard set of tools.
More information is available at 80breakr.com.
About the Creator
Koerve, Inc., based in San Diego, California, develops smartphone apps that make it easier and more fun to play golf & improve one's game. 80breakr helps one identify areas for improvement, for further focused practice in that area.
The 80breakr golf app started as a personal goal to break 80 by the company founder & app designer, a trusted and experienced design engineer with over 20 U.S. Patents.
Koerve, Inc. believes all golfers, no matter what their personal scoring goal is, can benefit from the 80breakr golf analysis tools and enjoy the fun voice, social, and sharing capabilities integrated in the app.