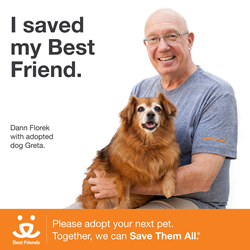 LOS ANGELES (PRWEB) February 25, 2015
Dann Florek may have been tough as nails as Captain Donald Cragen on television dramas "Law & Order" and "Law & Order: Special Victims Unit," but in real life the actor has a serious soft spot for homeless pets.
Florek says that in his home, it is his rescued dogs that capture the spotlight. Now Florek is urging Americans to join national animal welfare organization Best Friends Animal Society in the drive to save the lives of shelter dogs and cats.
"Over the years my wife and I have rescued all of our dogs (six and counting), and they've all enriched our lives in unexpected ways. Some were comedians, some were therapy dogs, but they all were loving companions and important members of our family," Florek said. "Our lives are better for having rescued these dogs. If you are thinking about getting your own best friend, please consider adopting. If we do this together, we can indeed save them all."
In his career, Florek has performed in more than 70 plays, including works by Shakespeare, Neil Simon and Harold Pinter. His movie career lists such films as "Sweet Liberty," "The Flintstones," "Angel Heart" and "Hard Rain." He is probably best known, however, for his work in television. In addition to the "Law & Order" series, Florek is a familiar face from series such as "Hill Street Blues," "Roseanne," "From The Earth To The Moon," "Smart Guy," and "NYPD Blue."
Florek joins Danny Trejo, Carrie Ann Inaba, Denise Richards, Nils Lofgren, Josef Newgarden, Amanda Seyfried, Cecily Strong, Maggie Q, Elisabeth Rohm, Courtney Thorne-Smith, Lisa Edelstein, Tricia Helfer and other luminaries participating in Best Friends' photo campaign featuring celebrities posed with their personal rescued dogs and/or cats in support of the Save Them All call to action.
According to national statistics, each day more than 9,000 dogs and cats die in the nation's shelters. Best Friends has brought increased awareness to how people can get involved in the solution by adopting, and spaying/neutering their pets, donating, volunteering and sharing this message with their friends.
About Best Friends Animal Society®
Best Friends Animal Society is the only national animal welfare organization dedicated exclusively to ending the killing of dogs and cats in America's shelters. A leader in the no-kill movement, Best Friends runs the nation's largest no-kill sanctuary for companion animals, as well as lifesaving programs in partnership with rescue groups and shelters across the country. Since its founding in 1984, Best Friends has helped reduce the number of animals killed in American shelters from 17 million per year to about 4 million. By continuing to build effective initiatives that reduce the number of animals entering shelters and increase the number who find homes, Best Friends and its nationwide network of members and partners are working to Save Them All®.
To like Best Friends Animal Society on Facebook go to: http://www.facebook.com/bestfriendsanimalsociety
Follow Best Friends on Twitter: http://twitter.com/bestfriends
###