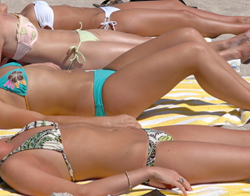 Individuals with a criminal record may require a US Entry Waiver
(PRWEB) February 26, 2015
Why are Canadians wanting to head South this March break? Well, the Farmer's Almanac predicted the Canadian winter of 2014–15 would see below-normal temperatures for about three-quarters of the country, and they were right! That has many longing for the warmer temperatures found in parts of the United States.
Keep these tips in mind when planning a get-away this March:
1. All adults and children who are travelling must have proper identification. For children under the age of 16, have their identification ready such as their birth certificate or passport, as well as a letter of permission for any child who is travelling without their parents or with a non-custodial parent.
2. Use a Nexus card to save time at U.S. ports of entry. If driving across the border, keep in mind that a Nexus card can only be used if everybody in the vehicle is a cardholder.
3. Know the personal exemption limits, including those for alcohol and tobacco. Declare all purchases made, including duty-free purchases, and have the receipts readily available upon returing to Canada.
4. Border wait times for land borders are available at http://www.cbsa.gc.ca.
5. Individuals with a criminal record may require a US Entry Waiver. Learn more at http://www.PardonServicesCanada.com. If you already have a waiver, make sure has not expired.
Following these tips will ensure border crossings are trouble free. Now don't forget to pack the sunblock!
About Pardon Services Canada
An industry leader in helping individuals overcome the obstacles of a criminal record. Since 1989, Pardon Services Canada has successfully assisted over 100,000 Canadians exercise their lawful rights under the Criminal Records Act of Canada, and the Immigration and Nationality Act of the United States. Services include US Entry Waivers, Record Suspensions (formerly called pardons), and fingerprinting. Now also assisting Americans enter Canada with Temporary Resident Permits and Criminal Rehabilitation Status. To get started, call toll free 1-866-972-7366 or visit the website Pardon Services Canada