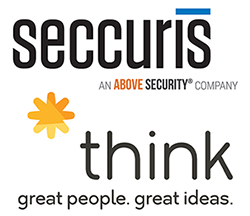 It's our responsibility to make sure clients know the threats and risks that are out there, as well as the solutions that can help them.
Winnipeg, Manitoba (PRWEB) February 26, 2015
Seccuris Inc., a leading North American cybersecurity consulting and managed services firm, welcomes technology integration company, Think Communications, as its newest Channel Partner. Think will offer Seccuris's OneStone™ Information Assurance Portal to clients in British Columbia, Canada.
"We're very proud to work with Seccuris as a OneStone reseller," said David Saele, Think Communications President. "With the increasing threats and breaches happening to clients big and small, we actively looked for a partner who not only offers exceptional security solutions, but can also provide managed services around them. Seccuris clearly meets both those requirements."
Developed by Seccuris, OneStone is a managed security service that provides reliable 24x7 threat monitoring, vulnerability management, business risk assessments, asset classification and tracking, and comprehensive reporting. Backed by a professionally-staffed Security Operations Center, OneStone helps clients make effective risk-based decisions. Plus, compared to the costs of organizations maintaining a 24x7 in-house security department, including staffing, training, maintenance, and infrastructure, OneStone is just a portion of the price.
"Think Communications is the ideal partner to help continue our commitment to delivering integrated monitoring and risk management to organizations of every size," said Tim Vanderhyde, Director of Sales and Technology Partners for Seccuris. "Think provides services to hundreds of corporate clients in the private and public sector ranging from 10 users to over 10,000. We look forward to helping Think protect them at a time when cyber threats are more prominent than ever."
"Education is the key," David Saele added. "Some clients believe that having a firewall or security software is enough, but quite frankly, it's not. If someone wants to hack you, it's not a matter of can they do it, it's a matter of when they do. It's our responsibility to make sure clients know the threats and risks that are out there, as well as the solutions that can help them."
For more information on the security benefits of OneStone, visit seccuris.com/onestone.
About Seccuris
Seccuris is the North American leader in Enterprise Security Architecture and Information Assurance Integration. Since 1999, the company has been providing clients with unparalleled business-driven solutions through security and risk management consulting and managed security services. Seccuris is the unique alternative because it assesses each client's entire enterprise, not just their technology, and then tailors the exact security program they need to make effective risk-based decisions at every level. For more information, visit seccuris.com.
About Think Communications
Established in 2005, Think Communications is a Technology Integrator with a core focus on procurement, design, implementation, and on-going support of our client's IT environment. Think's team members each have an average 15+ years of industry experience, and many have previously managed or run their own successful businesses. Having this first-hand experience in business gives Think the unique ability to understand the challenges companies face when looking for business solutions. Visit thinkcommunications.ca.