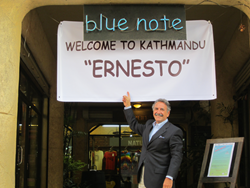 The future of every community lies in capturing the passion, energy and imagination of its own people. -Dr Ernesto Sirolli
Sacramento, California (PRWEB) February 26, 2015
The Sirolli Institute, in partnership with Himalayan Aid, are looking to fund the training and full-time salaries of six (6) Enterprise Facilitators in Nepal through their first ever Indiegogo campaign. The program is to begin in Nepal on May 11, 2015.
In September of 2014, at the invitation of Nepal's entrepreneur community, Sirolli presented a series of talks in Kathmandu that resulted in numerous requests for the Enterprise Facilitation program. This event, combined with the numerous requests that were received as a result Dr. Sirolli's popular 2012 TED talk has created a demand for Enterprise Facilitation from many impoverished regions of the world that could desperately use a program like Enterprise Facilitation, but cannot pay for training and salaries on their own. The Nepal crowdfunding campaign represents the Sirolli Institute's first effort to reach out to those communities and help them finance their own Enterprise Facilitation program.
The Sirolli model is unlike any entrepreneurship development model in practice today. At the core of the program are the Enterprise Facilitators who live among, work with, and chat with anyone who has ever considered starting a business and would like information. They walk the village streets, meet in homes, in coffee houses, and generally make themselves visible to those who want to better themselves through entrepreneurship. It is made clear to anyone seeking their advice that no business can succeed alone.
Enterprise Facilitators are trained to help budding entrepreneurs self-evaluate their business ideas under international standards and to identify their strengths and weaknesses. They work full time giving one-on-one service and constantly solicit their pre-established, dedicated, community resource networks for individuals with the expertise and time to assist each of their entrepreneur clients.
The critical component is that this service is free to anyone and is available for as long as a community chooses to pay and keep an Enterprise Facilitator in their midst. This is radically different from many new-business coaching models that ask for a training fee or a time commitment that an impoverished individual simply can't afford. The Sirolli model guarantees free access for all.
Currently, there are over 300 working Enterprise Facilitators worldwide. The Sirolli model has helped to assist upwards of 80,000 businesses over the last 25 years, and nearly 80% of all Sirolli-assisted new businesses are still in operation five years after their creation. Over 50% of Sirolli-assisted businesses are created and run by women.
For more information on the Sirolli Institute and Enterprise Facilitation see http://www.sirolli.com