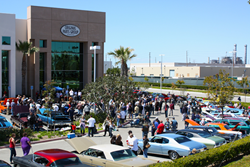 Seal Beach, California (PRWEB) February 27, 2015
Original Parts Group, Inc. (OPGI) is hosting its annual free Classic Car Show at the OPGI headquarters in Seal Beach, California on Saturday, April 11th, 2015. The annual Original Parts Group Car Show will be held at OPGI headquarters located at 1770 Saturn Way, Seal Beach, CA, 90740. The combination of classic cars and a variety of restoration and aftermarket accessory vendor displays will create the perfect backdrop for a Southern California day of fun in the sun.
The show will run from 9am to 3pm and admission is free for all spectators. Display car staging begins at 8am and car owners should try to sign up as early as possible because exhibition space is limited to 275 vehicles. A $25 display car registration fee includes a free event T-shirt and goodie bag for each exhibitor. The show will also benefit the 'Wounded Warrior Project.' The 'Wounded Warrior Project' name is used with permission and more information can be found at http://www.woundedwarriorproject.org or by calling the organization at 877-832-6997.
Original Parts Group, Inc. is your GM restoration and performance source! Celebrating over 33 years of manufacturing and retailing the highest quality restoration parts and accessories, OPGI is recognized as the nation's number one supplier and manufacturer of classic GM parts and is committed to maintaining that reputation and serving the needs of its customers for years to come. For more information, visit OPGI.com or call toll free: 1-800-243-8355.