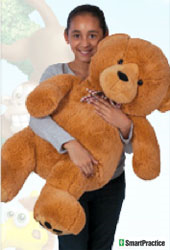 These original, plush zoo animals are a great tool for comforting kids who might have a hard time at the dentist. They also make great prizes for No Cavity Clubs.
Phoenix, AZ (PRWEB) February 27, 2015
To coincide with National Children's Dental Health Month, SmartPractice® is putting the spotlight on the plush toy characters of Sqwiggly® ZOO Club. Dental practices joining the Club will receive a kit including one new plush set, one contest entry box with entry forms, a colorful poster and much more. A new set will then be automatically shipped on a quarterly basis, however, practices wanting to order specific sets at their convenience, can easily do so online.
The sets feature a "Mama" character along with her two babies. The zoo animals are ideal for helping to decrease anxiety experienced by young children during treatment. Product Marketing Manager, Jennifer Wiblishouser, states, "These original, plush zoo animals are a great tool for comforting kids who might have a hard time at the dentist. They also make great prizes for No Cavity Clubs." For more information on the Sqwiggly ZOO Club, call 800.522.0800 or visit smartpractice.com/zooclub
SmartPractice® is a family-owned company, passionate about our mission for Healthier Practices, Healthier Patients. Proudly serving dental professionals with patient communications, practice marketing, dental supplies, filing supplies and innovative exam glove solutions for more than 40 years. To learn more, visit smartpractice.com/dental